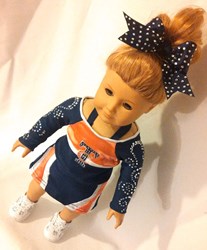 I know what it takes to grow a business and I've used debt in the past to help grow...[but] it's not the best way to do things in the current economy.
(PRWEB) January 07, 2014
After experiencing breakneck growth during its first full year of operation, high-end replica clothing manufacturer Annique's Nook proudly announces the launch of a $20,000 Indiegogo campaign to fund its expansion and relocation. The campaign officially began on December 28, 2013 and will run through February 15, 2014.
Annique's Nook began its life as a hobby project for founder and serial entrepreneur Teajai Kimsey, an avid sewer who has long fashioned custom dresses and replica clothing for her niece and daughter. The Nook's first products included full-sized shoe covers and doll-sized replica cheer uniforms for her daughter's cheer squad, and its lineup soon expanded to include a wide range of clothing items that fit perfectly on 18" American Girl dolls.
The Indiegogo campaign has several key goals. To ensure the success of its expansion, Annique's Nook needs several new pieces of equipment. These include four work tables, two sewing machines and at least one cutting machine. Additionally, the firm needs to budget for increased wall storage and a separate, enclosed office for its administrative and sales staff.
Annique's Nook also seeks a permanent manufacturing space to replace its temporary setup. Ms. Kimsey has identified several candidate spaces that measure at least 1,500 square feet and can support key electrical upgrades. Once the move is complete, Kimsey plans to hire at least three new staff members, including two sewing specialists and a full-time salesperson. While the $20,000 campaign goal will cover expenses related to the Nook's new equipment and office space, these new hires' wages will be paid out of the business's operating income.
As an experienced entrepreneur, Ms. Kimsey aims to avoid excessive debt during the Nook's early expansion. "I know what it takes to grow a business and I've used debt in the past to help grow...[but] it's not the best way to do things in the current economy," she said.
To generate interest for the Indiegogo campaign, Ms. Kimsey offers incentives for enthusiastic donors. Those who donate $15 earn a "cheer poster" that measures 18" x 24", and donations of $50 earn a "bow party box" that contains material and instructions for recipients to craft 10 of the Nook's signature bows. For those who donate in even larger amounts, Kimsey offers customized doll designs, on-site bow parties and personalized tours of the Nook.
Those who wish to help fund the expansion and relocation of Annique's Nook may visit http://www.indiegogo.com/projects/nook-needs-new-digs to learn more about this exciting project.
About Annique's Nook
Founded in late 2012, Annique's Nook is a rapidly growing clothing firm that specializes in cheerleading shoe covers (ShoutWear), replica clothing for American Girl dolls, bespoke teddy bears, monogrammed towels and other unique clothing items. Founder Teajai Kimsey - working as her "alter ego" Annique - reproduces each piece of clothing by taking detailed scale measurements and working off photographs to ensure that each detail transfers properly.
Initially conceived as a spare-time project to boost the morale of Kimsey's daughter's cheerleading team, the company now has several employees and looks poised to outgrow its original space. The Nook also offers membership in DollyGarb, a monthly club that sends members one or two unique doll outfits with corresponding accessories. More information is available at shop.anniquesnook.com and http://www.etsy.com/shop/AnniquesNook.
About Teajai Kimsey
Armed with a B.A. in business administration and an M.S. in management, Annique's Nook owner Teajai Kimsey is an experienced entrepreneur who has owned and operated several businesses over the past 15 years. In 2001, Kimsey began working as a full-time Web developer and marketer. By 2007, she employed 12 staff members as the owner of Advanced Web Designs, a full-service firm that worked with clients from all over North America. After selling her stake in the firm, Kimsey founded The Internet Idea Girl and continued to work with clients who sought cutting-edge online marketing solutions. Today, she is committed to building Annique's Nook into a premier provider of clothing and accessories.