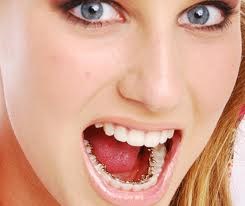 Burtonsville, MD (PRWEB) January 13, 2014
Many people consider getting braces for years, because they don't like their smile and want straight teeth. The problem is that even though someone might be tired of not smiling in pictures, or covering their teeth when they smile or laugh, the process of getting straight teeth takes time. Dr. Ejiro Esi recognizes that not many people want to cramp their style with bulky, traditional braces. Luckily, the new hidden (lingual) braces are the perfect solution to this problem. Getting adult braces in Maryland has never been easier, or more stylish.
Lingual braces, unlike traditional braces that go on the front of teeth, are braces that are essentially hidden from sight because they are attached to the back of the teeth. The unique positioning of these braces make them nearly invisible when the wearer smiles. This allows the person wearing them to feel confident that no one will ever know that they are having their teeth straightened.
In Maryland, adult braces are still the rarity. Dr. Esi suggests that this is because many adults are uncomfortable with the way that braces make them look, and they choose to live with crooked teeth instead. In describing lingual braces, she says:
"Whether you are a teenager or a working professional, lingual braces provide the benefits of traditional orthodontic braces while catering to your aesthetic needs. Unlike other aesthetic orthodontic treatment options, like ceramic braces and Invisalign, lingual braces are the only aesthetic treatment system that provide the patient with a 100% customized bracket system. Lingual braces are created uniquely for you, so that they perfectly match the shape of your teeth. Most lingual braces, and the wires used, are designed and manufactured using computers and robotic technology. This allows for extremely precise tooth movements that create more efficient treatment times and treatment results."
Most patients are good candidates for hidden braces, but, like all treatment modalities, not all are. Patients with excessive plaque build-up, severe bite problems, and skeletal problems may not be ideal candidates for lingual braces. It is important for new patients to visit their orthodontist for a consultation to determine if they are a good candidate.
For patients that are not good candidates for lingual braces, ceramic braces and Invisalign are still great aesthetic treatment options. Ceramic braces are the white or tooth-colored braces that blend in with the patient's teeth. They generally still have the metal wire that goes across the braces, but they are far less obtrusive than the traditional metal braces. Invisalign, are a series of clear removable acrylic trays or aligners that are invisible, and straighten teeth just like braces. While Invisalign treatments are custom designed, much like lingual braces, they are not able to achieve some of the more difficult tooth movements that traditional or lingual braces accomplish. Dr. Esi is able to offer all of these options to her patients, including adults who want braces in Maryland.
About ESI Orthodontics:
Located in Burtonsville, MD, Dr. Ejiro ESI built her business with a passion for helping to create beautiful smiles. She received her Doctorate of Dental Surgery from Columbia University in New York, and has been a resident of Washington, DC for almost 20 years. Dr. Esi and her knowledgeable team provide gentle care for patients of all ages, in a fun and friendly environment. Patients who sign up for a complimentary consultation will be able to discuss many different treatment options, such as traditional metal braces, clear braces, Invisalign and lingual braces. There are also different financing options available to ensure that all patients have the chance to share their radiant smiles with confidence.
Contact:
ESI Orthodontics
(240) 245-0540
Dresi(at)esiorthodontics(dot)com
http://www.esiorthodontics.com