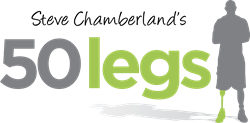 (PRWEB) January 14, 2014
50 Legs (founded by former professional wrestler Steve Chamberland) is a nationwide Non Profit (501c3) based in Tampa Bay, Florida, focused on purchasing prosthetic legs for amputees who cannot afford them. A young charity of only 3 years, 50 Legs helped dozens of children, adults, vets, and also provided assistance to the Boston bombing victims. http://youtu.be/JN5JtsKClY4
50 Legs latest beneficiary lives in the Chicago area and is a beloved father, husband, and active community youth sports coach. As a new amputee, he is having great difficulties adjusting to his new challenges, and like most amputees, insurance will not cover the expensive care and higher end prosthetics needed to allow him to live an active lifestyle.
Here's where this story is going to get interesting…
He has no idea he is getting ready to get a new leg. He will think that his daughter won an Orlando vacation.
50 Legs, partnering with the Rosen Hotel Group, will be bringing him, his wife and 2 daughters into Orlando, Florida to visit Prosthetics and Orthotics Associates (POA), and meet one of the nation's leading prosthetists, Stan Patterson, and it will not be until he is here that the complete plan will be unveiled; undoubtedly to a very emotional response. The "Orlando vacation" will be presented to him the end of January for his birthday and final travel dated will follow, likely Mid-end February. For more information on this story contact John Thompson 727-409-4170, or email john(at)50legs(dot)org.