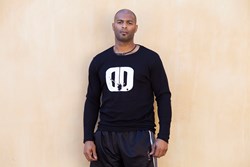 Los Angeles, California (PRWEB) January 14, 2014
Darryl Rudd, having spent the last 23 years of his life rebuilding and transforming the physiques of thousands of people with his innovative training and dieting techniques, knows the importance of health, wellness, mental stability, and preventative maintenance for the body. His clients range from young to old, housewives to business executives, music professionals to celebrities, boxers to bodybuilders, and triathletes to professional athletes. No matter what stage someone is starting from, Darryl has the knowledge and skills to always achieve the desired results. He is known worldwide for his ability to rapidly transform physiques, while at the same time allowing his clients to reach their highest levels of health and wellness. Passionate about fitness and its possibilities, Darryl now teaches and advises other fitness professionals on how to achieve success in helping others.
By creating Dungeon Labbs, Darryl has now taken things to the next level to bring the health/fitness/athletic communities his own unique line of Nutritional Supplements ranging from multivitamins to performance enhancers to holistic alternatives. Darryl says, "Now is the best time for me to utilize all the knowledge that I have accumulated over the past 20 years of working in the supplement and fitness industry. I have created a unique line that will naturally assist my clients, and anyone who is serious about reaching their fitness, physique and performance goals safely and rapidly."
Darryl continues, "When I created Dungeon Labbs, the whole idea was to put together the highest quality and most effective products in the health, fitness, and performance industry. My clients have responded very well to Dungeon Labbs' products, and are extremely satisfied with the results they are seeing."
Dungeon Labbs is also excited to offer private labeling services. Interested in starting your own line of supplements and selling under your own brand name? Dungeon Labbs offers private labeling services to companies and individuals who wish to start their own line of sports/health supplements, taking clients from product selection and label design, to packaging and shipping. Dungeon Labbs offers a wide range of supplements to fulfill basic needs, or products can be customized to fit any specific needs.
For information on working with Darryl to transform your physique for general health, performance, competition, modeling, events, photo shoots, or TV/Film roles please contact him directly at dungeonofdisciplinegym(at)yahoo(dot)com.
For information on Dungeon Labbs' products and services:
Dungeon Labbs, Inc.
1100 S Beverly Drive
Los Angeles, CA 90035
310 424 8538
dungeonlabbs(at)yahoo(com)com
http://www.dungeonlabbs.com
http://www.dungeonofdiscipline.com
###