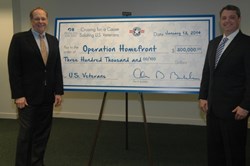 America's veterans and their families face immeasurable challenges, and we're pleased to be able to honor them as well as provide funds to those organizations that assist them.
Santa Clara, CA (PRWEB) January 13, 2014
Princess Cruises raised $600,000 during the line's "Cruising for a Cause" fundraising cruise for veterans this past November. The funds have been divided equally between Operation Homefront and the Vietnam Veterans Memorial Fund, with Alan Buckelew, former president and CEO of Princess Cruises and a Vietnam veteran, today presenting a $300,000 check to Jim Knotts, CEO of Operation Homefront. Buckelew previously presented a similar check to the Vietnam Veterans Memorial Fund.
This special cruise offered passengers the opportunity to honor those who have served in the military as well as active duty military personnel. A number of special guests joined the voyage, including a former chairman of the Joint Chiefs of Staff, retired senior officers from each military branch, an award-winning war correspondent; and other respected speakers. Veterans representing all conflicts participated in the cruise, which also featured special performers, celebrities, panel discussions and military-themed events.
"We were so honored to have hosted this cruise to support these organizations that are doing such vital work for our veterans," said Jan Swartz, president of Princess Cruises. "America's veterans and their families face immeasurable challenges, and we're pleased to be able to honor them as well as provide funds to those organizations that assist them."
Funds were raised by matching a portion of each passenger's cruise fare as well as other fundraising activities during the special sailing, which took place aboard Caribbean Princess.
About Operation Homefront – A national nonprofit, Operation Homefront leads more than 4,500 volunteers with nationwide presence who provide emergency and other financial assistance to the families of service members and wounded warriors. Operation Homefront has met more than 750,000 needs of military families since its inception in 2002. Accredited by the Better Business Bureau and holding an "A" rating from the American Institute of Philanthropy, nationally, 95 percent of total donations to Operation Homefront go directly to programs that provide support to our military families. For more information, go to http://www.OperationHomefront.net.
About Vietnam Veterans Memorial Fund – In 1982 the American people helped The Vietnam Veterans Memorial Fund complete an impossible mission to heal a nation and bring comfort and solace to a generation of veterans. Today, the Vietnam Veterans Memorial Fund is working to further this mission by building The Education Center at The Wall, the place on the National Mall where our heroes' stories will never be forgotten. Since the dedication of The Wall, VVMF has pursued a mission of preserving the legacy of The Wall, promoting healing and educating about the impact of the Vietnam War. Learn more at http://www.buildthecenter.org, or call 866-990-WALL.
Additional information about Princess Cruises is available through a professional travel agent, by calling 1-800-PRINCESS, or by visiting the company's website at princess.com.
# # #
About Princess Cruises:
One of the best-known names in cruising, Princess Cruises is a global cruise and tour company operating a fleet of 17 modern ships renowned for their innovative design and wide array of choices in dining, entertainment and amenities, all provided in an environment of exceptional customer service. A recognized leader in worldwide cruising, Princess carries 1.7 million passengers each year to destinations around the globe ranging in length from three to 111 days. The company is part of Carnival Corporation & plc (NYSE/LSE:CCL; NYSE:CUK).
Newsroom:
Additional media information is available at princess.com/news
For further information contact:
Karen Candy, kcandy(at)princesscruises.com, 661-753-1540
Julie Benson, jbenson(at)princesscruises.com, 661-753-1530