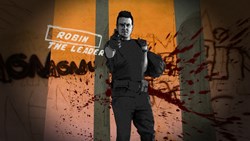 New comedy ROBIN BANKS AND THE BANK ROBERTS from @MakerStudios & Studio 2.0 debuts 2day on @NachoPunch: http://bit.ly/1m7xWTE #RobinBanks
Los Angeles (PRWEB) January 15, 2014
Twitter Pitch #1: New comedy ROBIN BANKS AND THE BANK ROBERTS from @MakerStudios & Studio 2.0 debuts 2day on @NachoPunch: http://bit.ly/1m7xWTE #RobinBanks
Twitter Pitch #2: New Reich & Cohen comedy ROBIN BANKS AND THE BANK ROBERTS from @MakerStudios & Studio 2.0 debuts 2day on @NachoPunch: http://bit.ly/1m7xWTE
Maker Studios, a next-generation media and technology company and the world's largest provider of online video content for millennials, today announced a partnership with Studio 2.0, a division of the Warner Bros. Television Group, to launch the original series "Robin Banks and the Bank Roberts" on comedy hub Nacho Punch.
Created and written by Emmy®-winning former "Friends" executive producers Andrew Reich & Ted Cohen, "Robin Banks and the Bank Roberts" features a cast of up-and-coming comedic stars including Michael Mosley ("Scrubs," "Pan Am"), Tony Cavalero ("Aim High," "2 Broke Girls"), and Josh Zuckerman ("90210," "Desperate Housewives").
"Maker strives to align ourselves with content that cuts through the noise and it was clear from the get-go that Andrew and Ted were able to take their gloves off in 'Robin Banks'—a series we know our audience will gravitate towards," said Andy Vick, GM, Comedy, Maker Studios. "We are always looking to enhance the original programming experience so partnering with Studio 2.0 was a clear choice, and we couldn't be happier about being in business with them."
Andrew Reich & Ted Cohen added, "It's the most juvenile and idiotic thing we've ever done and we are very proud to share it with the world. Unfortunately, we only have a dial-up modem and a CompuServe account so we won't be able to watch, but we hope other people enjoy it."
A heist comedy unlike any other, "Robin Banks" is a raucous send-up of classic heist movies, starring a trio of bumbling bank robbers: Bobby, the loose cannon (Cavalero); Robert, the tech whiz (Zuckerman); and Robin (Mosely), the leader, who tries (and fails) to keep the group from screwing up. Whether they're hitting on the hostages, turtle-heading during a big robbery, or hiring a sushi chef to feed everyone in the bank, "Robin Banks" turns every tense theft trope on its ear, proving there's no handbook for crime...and if there were, Robin would probably shoot it for knowing too much.
The first of 10 episodes, each 3-5 minutes long, debuted today on http://www.youtube.com/NachoPunch. Following the premiere, a new episode will air every Wednesday through March 19, 2014. The series will also become available across additional distribution platforms beginning in February.
Nacho Punch is Maker's comedy network home to the most watched comedic voices on YouTube such as KassemG, Steve Kardynl, Bart Baker, Ed Bassmaster, and Bobby Lee, among many more. The network features skits, sketches, pranks, music videos, animated comedy, series and more—blending the most influential comedy stars online with traditional comedy talent.
Today's announcement comes on the heels of Maker partnering with Red Hour Digital to produce season two of the online comedy series "Next Time on Lonny," as well as partnering with international comedy festival and brand Just For Laughs to expand its online video presence.
About Maker Studios
Maker Studios is a next-generation media and technology company and the world's largest provider of online video content for millennials. Maker Studios has more than 4.2 billion monthly video views and 350 million subscribers, including 40% viewership on mobile, and 80% of the coveted millennial audience. The company is home to many of online video's top digital stars and content including the all-time most-subscribed YouTube personality PewDiePie, KassemG, Nice Peter and EpicLLOYD's "Epic Rap Battles of History," the Shaytards, Snoop Dogg's WestFestTV, The Yogscast, The Gregory Brothers, Bad Lip Reading, Toby Turner and Mike Tompkins, among many others. The Maker Network also includes Blip, a leading digital media company that develops and distributes original web series. Maker Studios is headquartered in Culver City, Calif.
About Studio 2.0
Studio 2.0 is a division of the Warner Bros. Television Group. It produces and distributes distinctive shortform live-action and animated series from the Television Group's established and up-and-coming talent. Studio 2.0 is known for granting creators broad creative latitude with minimal editorial involvement from executives. Studio 2.0 series are distributed across a variety of Internet-delivered platforms. Studio 2.0's "Childrens Hospital," which debuted in 2008 and moved to television's Adult Swim in 2010, recently concluded its fifth season and has become a ratings and critical success, winning two Emmy® Awards. The series has also spawned the spinoff comedy "Newsreaders," which will have its second season debut in 2014 on Adult Swim.
###
Media Contacts:
For Maker Studios
Dena Cook
Brew Media Relations
310-600-7160, dena(at)brewpr(dot)com
For Warner Bros. Television Group
Tammy Golihew
(818) 954-4855, tammy.golihew(at)warnerbros(dot)com
Twitter: @TeeVeeGal