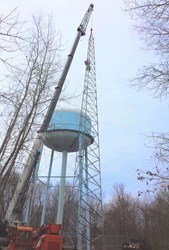 'We look forward to working with Seneca Telecomm to bring the latest communications technologies to Seneca community families in this difficult to service rural area,' said RESOLUTE Partners CEO, Michael Blanco.
Southington, CT (PRWEB) January 23, 2014
Working with Seneca Telecomm, RESOLUTE Partners is bringing broadband connectivity to as many as 1,500 Seneca Nation homes in upstate New York. The coverage area is approximately 24 square miles of rural, difficult to access terrain. RESOLUTE designed and engineered a multi-tower, point-to-multipoint wireless network to effectively deliver broadband Internet access to tribal member homes where traditional Internet service is not available. And satellite or 3G/4G service is spotty at best.
"The Seneca Nation of Indians was seeking to improve the quality of life for Nation members," said Al Trujillo, Vice President of Operations of Seneca Telecomm. "They determined readily available Internet access would be both an important and necessary service, and they enthusiastically approved our implementation plans. Based on RESOLUTE's extensive wireless network experience on military installations across the U.S., Seneca Telecomm selected RESOLUTE Partners to design, build and support the new network."
RESOLUTE's technical solution includes strategically placed communications towers supporting a high capacity wireless backbone. The wireless backbone will deliver broadband Internet access to individual homes today as well as other services in the future. The customer premise equipment package includes an exterior antenna and an indoor gateway. The gateway allows customers to easily connect multiple wireless devices to the Internet and create a home network for smart phones, tablets, laptops and streaming video devices such as Apple TV and ROKU. The gateway also features a LAN port for ethernet cable connections.
Implementation is now underway and the network is expected to go live by the end of February 2014.
The new network will be managed by RESOLUTE's Network Operations Support System (OSS), VersiWorksTM. VersiWorks will configure, manage and monitor all network hardware and customer premise equipment, control network access and authenticate subscribers. This is the same cloud based platform used by RESOLUTE to manage its own Wi-Fi network of 4000 devices covering 60,000 dorm/barrack rooms on over 30 U.S. military bases across the country.
Seneca Telecomm service technicians will install the customer premise equipment and support the residential side of the network. RESOLUTE engineers and tech help desk team will coordinate technical support, maintenance and repair while the RESOLUTE Call Center provides responsive customer care.
Michael Blanco, RESOLUTE Partners CEO, is pleased his company was engaged to develop the proposal and implementation plan for the Seneca Telecomm network. "We look forward to working with Seneca Telecomm to bring the latest communications technologies to Seneca community families in this difficult to service rural area," he said.
For more information about RESOLUTE Partners' portfolio of services, contact the RESOLUTE sales group at 860-628-6800 or sales(at)resolutepartners(dot)com.
About RESOLUTE Partners, LLC
RESOLUTE Partners designs, engineers, installs, operates and manages a complete range of Internet access and fixed wireless communications solutions for government and commercial enterprises. All designed to offer an enhanced experience for end users, improve operating efficiencies, reduce costs and create new business opportunities for our customers. RESOLUTE services include:

High capacity broadband wireless back-haul and end user infrastructure
High security fixed wireless connectivity
Project Management and Technical Documentation
RESOLUTE offers network management control and support through VersiWorks, an integrated OSS for configuration, authentication, monitoring, reporting and billing. The company's 24/7 US based call centers support the unique needs of end-users and clients. For more information please visit http://www.resolutepartners.com.
Contact RESOLUTE Partners:
Paul Guertin
VP Marketing
(860) 620-8218
Email: pguertin(at)resolutepartners(dot)com
About Seneca Telecommunications, LLC
Seneca Telecommunications, LLC (Seneca Telecomm) is a subsidiary of Seneca Holdings, LLC, a wholly owned subsidiary of the Seneca Nation of Indians, and offers a full range of domestic and international telecommunications and information technology support.
Seneca Telecom provides strategic leadership and mission support through collaboration and partnerships within the Government contracting community, aligning tools, resources, and expertise to deliver the highest levels of project execution services to Federal, State, and local government agencies and commercial entities. Seneca Telecomm has offices in the Seneca Nation Allegany Territory in New York and in Chantilly, Virginia.
Contact Seneca Telecomm:
Al Trujillo
Vice President of Operations
(703) 956-6781
atrujillo(at)senecatelecomm(dot)com