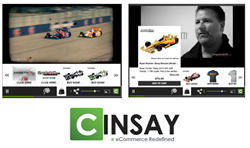 The new design and updated backend technology provides viewers a faster and more intuitive online experience as they Watch. Shop. Share.™ the player on the web, mobile and social network sites.
Austin, TX (PRWEB) October 29, 2014
Cinsay, the world leader in syndicatable video eCommerce, has released an enhanced version of its highly successful Video Smart Store™ platform. The new design and updated backend technology provides viewers a faster and more intuitive online experience as they Watch. Shop. Share.™ the player on the web, mobile and social network sites. Besides these improvements, several known technical upgrades have been provided to publishers of the Cinsay player to facilitate a much simpler and more efficient eCommerce platform where they can successfully promote their business and quickly transact online.
Cinsay's software release (3.6.0) includes a new user interface for its Video Smart Store (VSS) players and improved eCommerce reporting in the Smart Store Manager (SSM). Each release includes new features, and updates to current functionality, and resolutions for minor bug fixes.
Updated Interface
The debut of the new control and display system provides users a cleaner, simpler look and feel. The video also uses larger dimensions now at 740x555 pixels for higher video quality. Below the video, three icons appear in the toolbar control watching, shopping, and sharing options and allow toggling between video content and product display within the reel. The player also displays improved iconography and internationalizes these controls. The simplicity and location of the selectors make for an easier user experience, which could translate to even higher performance in terms of longer view times and higher conversion rates for merchants.
The shopping bag icon activates Cinsay's unique product display technology for shopping, donating, and lead generation. Flyouts for products open when moused over or tapped on. Clicking on a flyout takes viewers to the redesigned display for that product which will show the product with options such as size, and color in the option dropdown active box. As seen in this Vino Wall merchant store.
Full-screen Functionality
The new interface also supports Cinsay's full-screen capabilities very well while still incorporating the shopping and sharing options.
Enhanced Reseller Plans
In response to our partners' billing needs, multiple plans can now exist within a channel or sub-channel. This allows our reseller partners to offer multiple plans, providing for more options to fit each partner's business model and according to their specific contractual obligations.
eCommerce Transactions Associated with VSS
eCommerce transactions are now associated with the Video Smart Store GUID. This permits more accurate reporting, allowing BI to identify the VSS for all eCommerce transactions.
Minor Bug Fixes Resolved
This release includes the following fixes:

Rare shipping issues for some legacy clients resolved.
Full screen button added to small players.
Addressed various translation features.
Corrected state/region issue with provisioning dropdowns when localization is set to a specific country.
To learn more about Cinsay's new software release and to see examples of the new player, visit CinsayU.com to read in detail about this and previous software enhancements. New stores are also featured on MyCinsay.com as well as entertainment channels, AndrettiTV.com, ShopAndretti.com, RisiTV.com, ShopRisi.com, SuretoneLive.com and ShopStrokersDallas.com
About Cinsay
Austin-based Cinsay has created the worlds first multi-patented syndicatable video eCommerce, platform for small to large businesses and the entertainment industry. Cinsay's technology enables anyone to sell products, display printable coupons, capture donations, and generate leads or stream movies, music and sports content all inside its Video Smart Store™ (VSS) technology. Along with being the premiere video eCommerce provider for small and medium businesses, Cinsay is adding new exclusive content channels for sports, music and movies aligned with partners including Andretti Autosport via AndrettiTV.com and Suretone Entertainment via their site SureToneLive.com and has been selected as a software provider to SMBs via Yahoo's Commerce Central.
Forbes named Cinsay one of "America's Most Promising Companies" while eTail Conferences named Cinsay a "Rising Star in innovation" for 2012. Red Herring also selected Cinsay for the "Top 100 Companies in North America" for 2014. Cinsay's eCommerce video-based platform can be used for any individual or business. For more information, please visit http://www.cinsay.com or call 855-725-2462.
One or more of the following patents may protect Cinsay's software, systems, and/or services. U.S. Patent Nos. 7,840,415; 7,987,098; 8,769,053; 8,782,690; 8,813,132; 8,312,486; 8,533,753; and 8,549,555. Visit http://www.cinsay.com/patents for more information.