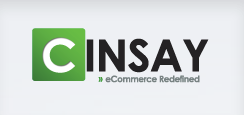 One of Cinsay's core growth strategies involves protecting our intellectual property," says Cinsay CEO Christian Briggs. "This lawsuit is intended to protect our hard-earned technological breakthroughs
Austin, TX (PRWEB) September 30, 2014
Cinsay Inc., a Texas-based global leader in syndicatable content-to-commerce video technology, has filed a patent infringement lawsuit against wireWAX U.S., Inc. in the United States District Court for the Northern District of Texas.
The suit, Cinsay Inc. v. wireWAX U.S., Inc., Case No. 3:14-cv-03475-K, was filed on September 25, 2014 and alleges infringement of U.S. Patent No. 8,782,690, entitled "Interactive Product Placement System and Method Therefor," and U.S. Patent No. 8,549,555, entitled "Interactive Product Placement System and Method Therefor," for interactive Internet-based video applications.
In the lawsuit filed by Dallas-based law firm Munck Wilson Mandala, Cinsay accuses wireWAX of infringing on Cinsay's patented innovations surrounding e-commerce videos – sometimes referred to as "shoppable videos."
Since its founding, Cinsay has continuously developed novel technology, propelling itself from a small start-up to a company with more than 120 employees today.
"One of Cinsay's core growth strategies involves protecting our intellectual property," says Cinsay CEO Christian Briggs. "This lawsuit is intended to protect our hard-earned technological breakthroughs."
Cinsay has created a next-generation e-commerce, viewer interactive, video-based platform for any size business. Cinsay's technology enables anyone to sell products, display printable coupons, capture donations, and generate leads all inside its patented Smart Store™ technology.
Forbes named Cinsay one of "America's Most Promising Companies" while eTail Conferences named Cinsay a "Rising Star" in innovation for 2012. Red Herring Media named Cinsay one of North America's Top 100 companies in 2014. Cinsay's e-commerce video-based platform can be used for retail, music, sports, entertainment, nonprofit and political organizations. For more information please visit http://www.cinsay.com/.
Munck Wilson Mandala is a Dallas-based, technology-focused law firm with an emphasis on patent, trade secret and other intellectual property disputes. The firm offers full-service counsel in the areas of intellectual property litigation, complex commercial litigation, intellectual property portfolio development, corporate transactions and securities, and employment law. Munck Wilson Mandala represents clients from start-ups to Fortune 50 companies. Learn more about the firm at http://www.munckwilson.com.