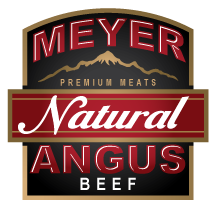 LOVELAND, Colo. (PRWEB) October 20, 2014
As the holidays approach, finding the perfect gift (at a good price) for foodie friends can be a struggle. To solve this predicament, Meyer Natural Angus will provide unique assortments of steak cuts at a discounted rate of 30 percent off this holiday season. The offer begins November 1, 2014.
When ordering from meyernaturalangus.com, customers can also obtain further discounts by entering the code FREEGROUND to receive complimentary ground shipping. All holiday orders must be submitted by December 14 so as the steaks arrive at their destinations in time for Christmas or New Year's Day.
Meyer's premium beef is graded Choice and Prime for the highest degree of marbling, tenderness, juiciness, and fine texture. Meyer cattle are raised humanely, with no added antibiotics or hormones. The superior aging process and the work of expert butchers ensures the beef's high quality.
Meyer Natural Angus offers a variety of USDA Prime Angus and dry-aged assortments, from the Petite Sampler, regularly priced at $64.95 but discounted to $45.47 for the holidays, to The Steak Lover's Dream, marked down to $272.27 from $388.95 during the holiday sale. There are 19 gift packages in multiple price ranges, including:

Thank You Gift - Two five-ounce USDA Prime filet mignon steaks and two six-ounce USDA Prime top sirloin steaks; originally $75.95, discounted to $53.17 for the holidays.
The Perfect Gift - Two 16-ounce USDA Prime rib-eye steaks and two 10-ounce USDA Prime top Sirloin steaks; originally $119.95, discounted to $83.97 for the holidays.
Dry Aged Jumbo Sampler - Two eight-ounce and two 14-ounce dry-aged New York strip steaks with two 10-ounce and two 16-ounce dry-aged rib-eye steaks; originally $258.95, discounted to $181.27 for the holidays.
About Meyer Natural Angus:
Meyer Natural Angus products are raised by family farmers committed to founder Bob Meyer's standards of environmentally sound practices, humane animal treatment, and quality beef products. Meyer Natural Angus meat is all natural and completely free of added hormones or antibiotics. To learn more about the premium natural beef offered by Meyer Natural Angus, visit http://www.meyernaturalangus.com.