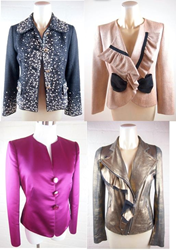 Los Angeles, CA (PRWEB) October 02, 2014
Ebay seller, Victoria Bartelle, owner of Frocknfrill.com is now auctioning 37 pieces of Joan Rivers' personal wardrobe collection. Pieces listed include Joan's designer jackets worn on "The Fashion Police" and reality show "Joan Knows Best", a custom made Vera Wang gown, and more casual clothing. Opening bids range from $45.00 to $10K. The Auction is running now thru October 11th, with 50% of the proceeds being donated to charity organizations: God's Love We Deliver and The ALS Foundation.
Since her passing, there have been numerous stories by friends and fans of just how generous, kind and thoughtful, the publicly brash, iconic comedian Joan Rivers was outside of the spotlight. Resale store owner, Victoria Bartelle, has her own story of Joan's generosity, and is working now to give something back as a personal 'thank you' to Joan.
Having worked for many years in specialty boutiques that sold celebrities second hand clothing, this year, frocknfrill.com owner, Victoria Bartelle set out to open her own clothing shop. Her specialty this time around, and on her own, was not originally tied to celebrity clothing, but rather beautiful gently worn clothes hand-selected from local charity shops.
Within a few months of opening her store frocknfrill.com , she received an amazing opportunity, through mutual friend, Marcia Tysseling (Joan's former personal assistant). She got a call from Joan and Melissa Rivers, with the invitation to drop by their home and pick up some clothing they were no longer using. Victoria happily obliged and upon returning from that pick up, was completely blown away at the caliber of clothing Joan had sent. Victoria reports, "Both Joan and Melissa were very generous. Joan was a very glamorous woman, dressing to the nines at all times, but still, I was not expecting to see such high-end designer pieces from Cavalli and Armani, which I later found out Joan had worn on television shows, including The Fashion Police. It was hard to grasp how she could be so generous with passing along these beautiful and amazing pieces just to help out an unknown Ebay store, and 'little guy' like me."
Originally Joan's items were listed and sold anonymously, with no mention of their famous owner or televised appearances. However, after Bartelle learned that someone in her family had been diagnosed with ALS, she shared this devastating news with Joan, asking if it would be okay to let people know these were her clothing items from Fashion Police, and asked if it would be alright to sell them to earn money for the charitable ALS Foundation. Joan replied, "Yes, that is fine." And Victoria began working to put a celebrity Joan Rivers Auction together to help this cause.
The following week, while still working to launch the auction, everything came to a halt when the tragic news broke that Joan had been hospitalized. Later that week, suddenly, she was gone.
Through the many televised tributes that followed her death, Victoria learned that Joan had a favorite charity of her own that she actively participated in, called God's Love We Deliver. To honor the life, work and generosity of Joan Rivers, a portion of the sales from this auction will also now be donated to God's Love We Deliver, along with The ALS Foundation.
To learn more about these collectibles from an iconic fashion legend, please visit http://www.frocknfrill.com/
About Frocknfrill.com
Frocknfrill is an Ebay store that specializes in reselling new and used designer and better brand clothing. The store was founded by longtime celebrity clothing reseller and thrift-guru, Victoria Bartelle, whose past clientele has included Farrah Fawcett, Cher and Joan Rivers. Bartelle believes that donating, buying and selling recycled clothing is one of the most enjoyable and easiest ways for people act in an environmentally conscious way.
Please visit http://www.frocknfrill.com/ for more information.
Media Contact:
Victoria Bartelle
E: Victoria(at)frocknfrill(dot)com