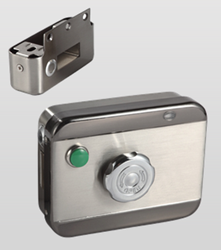 (PRWEB) September 29, 2014
Locks-Magnetic.com, a well-known magnetic lock supplier from China, has announced a new selection of electromagnetic locks. Additionally, all these new items are provided at discounted rates, up to 30% off.
The company's development manager states happily, "We are excited to announce our new electromagnetic locks. We launch the big promotion to show our appreciation to worldwide distributors. It is time for us to buy some practical items to keep our houses safe. It is absolutely a wise choice for clients to visit our online shop before making any shopping decision. All our items are of high quality and offered at acceptable prices."
According to the CEO of Locks-Magnetic.com, an electronic door lock is a locking device that includes an electromagnet and an armature plate. The most recommended items in this range are 60KG Magnetic Lock, 280kg (600Lbs) Single Door Magnetic Lock and 70KG Single Door Magnetic Mini Lock. The company checks and re-checks the ready-made door lock products before shipment.
Some details of the company's electronic locks are as follows:
Operating voltage: 12VDC
Electronically controlled lock voltage: 9 ~ 18VDC
Quiescent current: ≤ 20mA
Unlock current: 0.3A
Working temperature: (-30 ~ 60) ℃
Operating Humidity: 10% ~ 90% RH
Bolt length: 20mm
Operating Temp: -10~+55℃(14-131F)
Size: 128 * 105 * 59mm
Cover Finish: Anodized aluminum
Lock Finish: Zinc
Armature Plate Finish: Zinc
Weight: 2 KG
About Locks-Magnetic.com
Locks-Magnetic.com is a leading online store of high quality magnetic lock products. With an aim of offering the most affordable and convenient products, the company often announces new innovative products. In addition, it launches big promotions at its one stop website frequently. Customer service is the top priority of this professional supplier.
More details about the company and its high quality products can be found at http://www.locks-magnetic.com/.