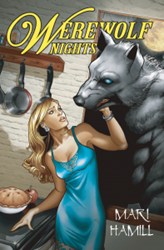 In 'Werewolf Nights,' author Mari Hamill blends fantasy, intrigue and passion to create a chilling, unique story.
VENICE, Calif. –
(PRWEB) September 29, 2014 -- It's not easy living in a small town where everyone knows your high school sweetheart disappeared and your husband died in a boating accident. That's what Catherine Mercy, star of this new novel, faces every time she goes on a date. But the small-town bakery owner is drawn to Greg Byron, a sexy movie star in town to film the story of Wereville's werewolf legend, and gets closer to him when she's cast to replace the female lead who vanishes. Fate steps in, however, and the legend becomes more than just a story.
Although Catherine had just about given up on love, Greg makes his way into her heart, despite some deception when they first meet. Just when the two realize their feelings, a wolf bites Greg. Suddenly Greg, Catherine and friend Steve, a werewolf legend buff, must figure out if the town's legend is real. Should that be the case, Greg will turn into a werewolf when the moon becomes full, and someone's destined to die. Catherine must decide if she has the courage to help Greg once and for all, even if it ruins her last chance for true love. In "Werewolf Nights," author Mari Hamill blends fantasy, intrigue and passion to create a chilling, unique story.
This is the first novel for Hamill, who has an English degree from Harvard, a comparative literature degree from the Sorbonne Nouvelle and a Ph.D. in comparative literature from the University of Michigan. The world traveler – she's lived in Guaynabo, Puerto Rico; Boston; Montreal; Paris; Venice; and Lausanne, Switzerland – speaks French, Spanish, German and some Italian. She now lives in Venice, Calif. Hamill's love of fantasy was sparked by Metro Comics, her family's comic book store, in Guaynabo.
----------
For additional information, please visit http://www.WerewolfNightsBook.com
Werewolf Nights
Mari Hamill
Dog Ear Publishing
ISBN: 978-1-4575-2574-2 216 pages $16.95 US
Available at Ingram, Amazon.com, Barnes & Noble and fine bookstores everywhere.
About Dog Ear Publishing, LLC
Dog Ear Publishing offers completely customized self-publishing services for independent authors. We provide cost-effective, fast, and highly profitable services to publish and distribute independently published books. Our book publishing and distribution services reach worldwide. Dog Ear authors retain all rights and complete creative control throughout the entire self-publishing process. Self-publishing services are available globally at http://www.dogearpublishing.net and from our offices in Indianapolis.
Dog Ear Publishing – self-publishing that actually makes sense.