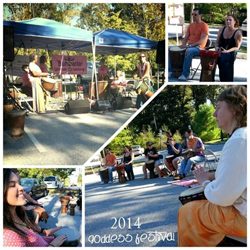 "The higher self will guide you to what you need."
Philadelphia, Pa (PRWEB) September 29, 2014
This past weekend one of the staff members of PsychicsForetell.com and a group of her friends went to support their local communities domestic violence center by channeling their inner Goddesses.
The Autumn Goddess Retreat was this past Saturday in Chester Springs, Pa and both women and men gathered to celebrate their inner divine essence and experience a deep connection with each other and also connect with their inner selves.
The Foretell representative takes to the company's blog page to share about her and her friends experiences at the retreat. "It was truly an amazing experience. I am still trying to process some of the things that happened. It was a lot to take in, I left with my mind body and soul feeling totally different - in a good way." says Foretell's rep.
The Autumn Goddess Retreat is a day long festival with food, local vendors, artist and craftsmen, workshops, healers and practitioners, music, belly dancers and other performances as well as an interactive drum circle.
"I'm happy I got the chance to not only experience such an amazing event and meet some wonderful people but also support such a great place in our community." says the rep.
Foretell's staff members are very active in supporting their local communities and very active when it comes to charities as well. Fans and followers of PsychicsForetell.com's social media pages such as Facebook, Twitter, and Pinterest, can follow their newest group charity which is in support of the ASPCA.