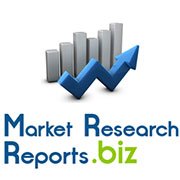 Latest Publication On China Printing And Dyeing Auxiliary Industry Report, 2014-2017
Albany, NY (PRWEB) September 29, 2014
Printing and dyeing auxiliaries are crucial for the upgrading and generation replacement of textile products and the growth of added value. In 2006-2012, China's printing and dyeing auxiliary output showed an uptrend with a CAGR of 8.8%. In 2013, the output reached 1.366 million tons, representing a slight increase over 2012.
View Full Report at http://www.marketresearchreports.biz/analysis/224966
China printing and dyeing auxiliary industry does not depend on import, but it has to introduce special and upscale auxiliaries from other countries frequently. Benefiting from technological progress, China's import volume of textile auxiliaries embodied a downward trend in 2008-2013. From January to July of 2014, China imported 16,300 tons of textile auxiliaries, down 6.6% year on year.
Download Detail Report With Complete TOC at http://www.marketresearchreports.biz/sample/sample/224966
In 2013, there were 2,000-3,000 production enterprises in China printing and dyeing auxiliary industry, mainly located in Jiangsu, Zhejiang, Guangdong, Shandong, Fujian and other coastal areas. In the same year, these five above provinces contributed 90% or so to the total capacity of printing and dyeing auxiliaries in China.
Zhejiang Transfar and Dymatic Chemicals are leading enterprises in China printing and dyeing auxiliary industry, with the market share of around 10%. In 2009-2014, both of them see their gross margin of dyeing auxiliaries at over 30% with an increasing trend. Zhejiang Transfar seeks for new growth engines by extending to butadiene rubber business; meanwhile, Dymatic Chemicals continues to consolidate its position in the industry through developing high-end products such as low-temperature bleaching and anti-staining cleaning products.
In the wake of increasingly stringent environmental policies, the backward capacity of the printing and dyeing auxiliary industry will be gradually eliminated and the concentration degree of the industry is to jump. At present, China's printing and dyeing auxiliaries account for 3% of textile fibers, lower than 7% in developed countries, which marks China's huge potentials. China's output of printing and dyeing auxiliary is expected to hit 1.693 million tons in 2017.
About Us
Marketresearchreports.biz is the most comprehensive collection of market research reports. Marketresearchreports.biz services are especially designed to save time and money of our clients. We are a one stop solution for all your research needs, our main offerings are syndicated research reports, custom research, subscription access and consulting services. We serve all sizes and types of companies spanning across various industries.
Browse Blog at http://businessmonitorinternational.wordpress.com/