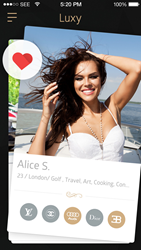 Los Angeles, California (PRWEB) September 29, 2014
Luxy, a social app that caters to the needs of luxury enthusiasts, recently completed a survey that showed women are more likely to engage on social media than men.
According to Luxy analysis for its user's demographics the percentage of female users (62%) is much higher than its male counterparts (38%), meaning the number of social media users today is mainly female driven. This could be due to the fact that females are psychologically more driven to desire social contact, whereas men are not as socially needy.
"This is not surprising." Says Tim, the marketing department manager of Luxy, "It is no secret that women are more willing to share what they enjoy doing."
Women tend to be more open and have wider boundaries for sharing than men. They enjoy contact with others that find joy in the same things, often willing to be open with their emotions. Men, on the other hand, are less likely to share personal feelings or thought. This difference between male and female is a main player in what attracts people together, and what also causes strife between the sexes.
Along with gender information on its user's demographics, Luxy also analyzed its user's ages. Showing that the average age of female users is 25, while that of male users is 38, indicating that younger people are more active on social media.
While the younger generations are more technology geared than that of their older generations, older people are more likely to stick with what they know and are comfortable with, which is personal sociability (more direct contact), when it comes to meeting and socializing with others. They enjoy the face-to-face, rather than on-line conversations.
Luxy, by showing in their survey, has proven what many have believed to be true. This news is great for women who enjoy using social media in that they have no shortage of like-minded socialites. On the other hand, this news is also good for men who like social media because there is less male competition for attention and an abundance of women to connect with.
About Luxy:
Developed by onLuxy.com, Luxy aims to provide the best platform for meeting luxury enthusiasts. Its unique matching algorithm helps people quickly and easily find similar-minded singles nearby.