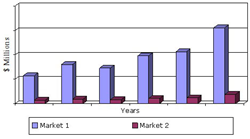 U.S. Market for Membranes to Reach $3.5 Billion in 2019
Wellesley, Mass (PRWEB) September 29, 2014
BCC Research (http://www.bccresearch.com) reveals in its new report, MEMBRANE TECHNOLOGY FOR LIQUID AND GAS SEPARATIONS, the combined U.S. market for membranes used in gas and liquid separating applications is expected to grow to $3.5 billion by 2019, registering a compound annual growth rate (CAGR) of 7.9% during the five-year period from 2014 to 2019. The combined sales of products used in gas separation, pervaporation, and novel processes are predicted to grow at a CAGR of 9% through the forecast period.
Several new membrane products for gas separation appear to be on the brink of commercialization. After years of lacking suitable materials for large and promising applications in several areas, inorganic and organic/inorganic hybrid membranes are poised to enter the market for such uses as hydrogen separation and natural gas purification. Pervaporation also appears to be on the verge of widespread success for a number of lucrative uses in fuels manufacturing and refinery processes.
By technology type, the market for reverse osmosis (RO) has been experiencing one of the most rapid growth rates, which is primarily an expression of the booming market in desalination. It is also a reflection of increased application in process water treatment and an interest in reclaiming "used" water.
"With a more upbeat economic forecast, both municipal and industrial end users of membrane products are forecast to make near-term capital investments," says BCC Research membrane technology analyst Susan Hanft. "In the longer term, strong growth is anticipated, as the need for environmental protection and for updated process equipment speed the pace of investment."
MEMBRANE TECHNOLOGY FOR LIQUID AND GAS SEPARATIONS provides an in-depth analysis of the market for membrane technology across a range of filtration types and applications. Technical and market drivers are considered in evaluating the current worth of the technologies covered, and in forecasting growth and trends over the next five years.
Editors and reporters who wish to speak with the analyst should contact Steven Cumming at steven(dot)cumming(at)bccresearch(dot)com.
About BCC Research
BCC Research publishes market research reports that make organizations worldwide more profitable with intelligence that drives smart business decisions. These reports cover today's major industrial and technology sectors, including emerging markets. For more than 40 years we've helped customers identify new market opportunities with accurate and reliable data and insight, including market sizing, forecasting, industry overviews, and identification of significant trends and key competitors. We partner with analysts who are experts in specific areas of industry and technology, providing unbiased measurements and assessments of global markets. Our clients include the top companies in industries around the world as well as universities, business schools, start-ups, consulting firms and investment companies. BCC Research is a unit of Eli Research LLC. Visit our website at http://www.bccresearch.com. Contact us: (+1) 781-489-7301 (U.S. Eastern time), or email information(at)bccresearch(dot)com.
Data and analysis extracted from this press release must be accompanied by a statement identifying BCC Research LLC, 49-2 Walnut Park, Wellesley, MA 02481, Telephone: (+1) 781-489-7301; Email: editor(at)bccresearch(dot)com as the source and publisher. Thank you.