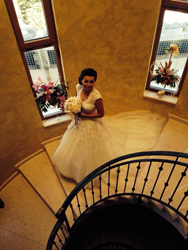 With so many beautiful gowns to choose from this autumn, all of our brides-to-be will be spoilt for choice
(PRWEB UK) 29 September 2014
Australian born Wendy Sullivan, is an internationally recognised bridal designer, whose collection of 'beautiful and glamourous' bridal gowns recently arrived at the Essex-based bridal boutique. Now her son, Jack Sullivan's collection will soon be hanging alongside his mother's 'ready to wear' eclectic mix of bridal gowns.
Despite the relationship and association, Jack's gowns are described as fine quality, luxury gowns that offer comfort for the bride. Creating his own style of elegant gowns, Jack likes to mix traditionally-fashioned designs with modern-day playfulness, meaning his collection of contemporary gowns will sit perfectly in the Saffron Walden store, which is renowned for its traditional customer service and 'good-old fashioned' values.
Rebecca said, "With so many beautiful gowns to choose from this autumn, all of our brides-to-be will be spoilt for choice. We also love the fact that we have secured collections from both Wendy and Jack Sullivan. Each designer has their own unique style, but their gowns are equally elegant and beautiful, and we can't wait to see our brides trying them on."
Fleur de Lys Bridal offer all its brides-to-be their very own VIP bridal fitting experience, with trained staff on hand to offer guidance, with tact and diplomacy, when helping brides to find their perfect gown. The boutique also has a wonderful collection of sparkling accessories and bridal essentials to compliment every bridal gown.
Fleur de Lys Bridal was recently awarded the RBA (Retail Bridal Association) accreditation, and an award-winning bridal-wear boutique chosen by the Essex Wedding Awards in 2012 and a finalist in 2013. Fleur de Lys Bridal is also currently a finalist in the Essex Business Awards, Customer Service category, and will find out shortly if they are selected winners.
VIP fittings can be booked online at http://www.fleurdelysbridal.co.uk or call 01799 526982 to make an appointment.