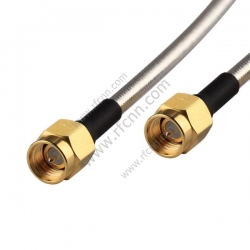 (PRWEB) September 29, 2014
LenoRF is an outstanding electrical accessory manufacturer from China. Recently, the company has added a new assortment of high quality SMA cables to its website.
"We are happy to release the new SMA cables, and we also sell many other related products at our website. We intend to provide the best electrical accessories for worldwide distributors. All of our items are of international-level quality; clients do not have to worry about anything. In addition, we want to be an industry leader in the market. So, we try to keep up with the most advanced production technology," the development manager for the company says.
As a matter of fact, the company's SMA cables are popular in the global market; they are especially hot among worldwide distributors. What the company provides are only innovative electrical accessories. At the moment, all its newly released products are offered at low rates, up to 30% off.
Offering various kinds of top quality electrical accessories (like semi rigid cable assemblies, coaxial cable connectors and microwave cable assemblies), LenoRF is a company known for great service. Owing to its considerate marketing strategies and premium quality items, the company has gained brilliant achievements. Now, it is looking forward to a greater success in the years ahead.
About LenoRF
LenoRF is an online shop of high end electrical equipment. It is a China based company that aims to provide customers with high quality products at the lowest possible prices. Customers can try the company's products through sample orders with a long-term contract. Most customers come back soon after receiving their first deals.
More details about the company's useful products can be found at http://www.rfcnn.com/SMA-Male-to-Male-18GHz-RG402-Coaxial-Cable-Jumper-430.html.