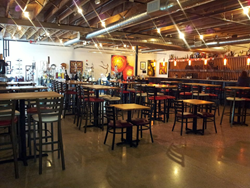 The Ladder Back Bar Stool is the best-selling bar stool in America
Lake Geneva, WI (PRWEB) September 29, 2014
Leading commercial furniture distributor, Restaurant Furniture.net recently teamed up with Studio Winery in Lake Geneva, WI to a successful grand opening for their wine bar by supplying them with new commercial bar stools.
Located on the fashionable Upper East Side, Studio Winery is the only winery in Lake Geneva. Studio is an urban winery. They are part art gallery and part recording studio. They offer wine tasting and serve a variety of local craft beers. They also feature an art gallery and recording lounge. There is indoor & outdoor seating and live music every Saturday from 4-8pm.
Studio Winery features high quality, small batch, artisan style wines made from fresh grapes made from their Lake Geneva winery. Studio Winery was born out of our love of art, music, & of course, wine. Kathy & Doug Jackson have dabbled in winemaking and brewing since 1992 and there wines have won many awards.
The owner of Studio Winery needed high quality commercial seating that would look great and be able to withstand the high traffic that the bar experiences on a daily basis. "The owner needed sturdy, durable bar stools that look great, but he didn't want to spend a lot of money", explained David M. He turned to Restaurant Furniture. net because of their reputation for premium quality and strong built furniture at affordable prices. Restaurant Furniture. net supplied Studio Winery with high quality bar stools and tables at competitive prices that fit well within his budget.
The owner decided to go with Ladder Back Metal Bar Stools with black frames. Customers can also choose a padded seat or a solid wood seat. The padded seat is made in the USA and can be upholstered in any material. Wood seats are available in 6 different finishes. The frame is available in black, copper vein, silver vein, gold vein or gold. The bar stools are currently on sale for $51. A matching Ladder Back Chair is also available is on sale for $34.50.
"The Ladder Back Bar Stool is the best-selling bar stool in America" according to David. "They are versatile enough to blend in with any décor, and the strong metal frame provides the durability that businesses need to withstand heavy traffic."
For tables, he decided to go with Solid Wood Table Top, in natural finish with eased edge. The table tops, which are also made in the USA start at as low as $84. The tabletops are also available in premium 2" thick solid wood. "The premium finish of the table tops matched the mahogany finish of the chairs and bar stools, which was important for the owner," remarked David.
Browse Restaurant Furniture.net's full selection of commercial grade chairs, bar stools, table tops, table bases, booths and patio furniture at http://www.restaurantfurniture.net or talk to a customer service representative at (888) 409-1115.
Studio Winery is located at 401 Sheridan Springs Rd. in Lake Geneva, WI. They can be contacted at: (262) 348-9100.