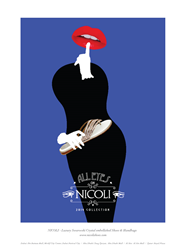 So, how to nail this look without channeling your inner Miss Marple or novice nun? With a fantastically embellished pair of Nicoli shoes
Los Angeles, Dubai (PRWEB) September 29, 2014
Runway shoes often define the term impractical: vertiginous heels, hoof-like platforms, and sliver-thin wedges that are literally impossible to walk in as demonstrated by models' embarrassingly frequent catwalk tumbles in full view of the world's fashion press, buyers and photographers.
 
But for the spring and summer of 2014, designers decreed a sharp sartorial turnaround. Gone was the ferocious footwear of seasons past and the spotlight turned - quite dramatically - to flats of every kind. Masculine oxfords, strappy sandals, moccasins and mules all came trouping down the catwalks during the shows of September 2013. It wasn't a flash-in-the-pan one season only trend either as the story for fall winter 2014/15 and spring/summer 2015 is exactly the same.
 
Yes, flats are most definitely having a little more than a "moment" and as fashion savvy feet take a much needed breather, it is worth noting that although heels maybe non-existent at the cutting edge of the fashion world, it doesn't mean style has been thrown out with the corn plasters and gel soles that have long aided the determined fierce heel wearer. Far from being resigned to the section of our wardrobes reserved for dress down day at work or a trip to the supermarket, they're being paired with everything from cropped tailored trousers to floaty dresses to the other unexpected star of the season – the midi skirt.
 
This curious garment, neither straight nor flared and sitting modestly below the knee, is slowly filtering from designer boutiques onto the high street and at first - actually make that second and third - glance might not seem the perfect partnership for a flat. But like it or not, (and no matter how hard we may laugh at ourselves in Facebook albums several seasons hence) this curious combo forms the definitive look of fall/winter 2014/15.
 
So, how to nail this look without channeling your inner Miss Marple or novice nun? With a fantastically crystal embellished pair of Nicoli slides or mules worn with the lightest, sheerest midi skirt you can find, in gossamer silk or chiffon. Alternatively, to really flash your fashion credentials, team a pair of Nicoli Flats with a midi of stiff brocade – worn for day as well as night with a cashmere sweater to exude a casual, nonchalant glamour.
 
Nicoli is an exclusive shoe and bag boutique with a customer base that spans the world. Nicoli specialises in accessorizing for impact with a range of shoes and bags that, quite literally, can't fail to shine.  Exquisitely crafted in Italian leather, only the highest-grade Swarovski crystals are selected to transform each Nicoli piece into a stylish work of art. Nicoli classic collections are available in gold, silver, rose gold and new for this season, and just in time for October's international Breast Cancer Awareness month, Nicoli is delighted to launch a stunning range of limited edition pink crystal sandals including a funky glam casual style that gives more than a nod to the current haute pool-shoe trend (seen at Tibi and Christian Louboutin.)
 
So, as party season approaches, take a look at Nicoli's ultra-flattering flats at http://www.nicolishoes.com, because for luxury that doesn't look too "ladylike" and embellishment that doesn't look too "bling, for once being bang on-trend doesn't have to mean sacrificing either style or comfort.