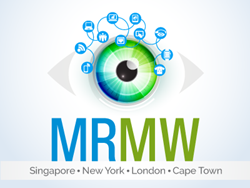 I'm guaranteed to come back with at least one new idea, one new tool, and one new supplier relationship. The benchmark set by each MRMW conference establishes a high standard for everyone associated with market research. - Jasmeet Sethi, Ericsson
New York (PRWEB) October 01, 2014
The Merlien Institute has announced the 2015 venues for its flagship MRMW conference series. Building on the success of the only global event series focusing on mobile and innovative market research technologies, MRMW will feature world class presenters, cutting-edge discussions and a review of the latest tools and technologies available to insight executives around the world.
Trusted by over 5000 participants around the world, this is the most important Market Research Event Series not to be missed. In 2015, MRMW will be bigger than ever, with the inaugural Mobile Research Awards 2015, networking receptions, additional workshops and of course a conference program that challenges the status quo and brings together innovators and leaders from the market research industry.
"What sets us apart from other events is that our conference agenda and topics are built based on feedback from hundreds of past delegates and thought leaders in the marketing research field. We also pride ourselves as pioneers for finding innovative technologies such as Google Glass or Smart Shirts and introducing them to the market research industry. The result is a conference program that is topical, relevant and focused on what delegates need to to advance their business," said Jens Cornelissen, Merlien's Managing Director of Global Events.
The dates for the 2015 MRMW events in Asia-Pacific, Europe, North America and Africa are as follows:
MRMW Asia-Pacific, March 10-12, 2015 Singapore
MRMW North America, May 19-22, 2015 New York
MRMW Europe, September 15-17, 2015 London
MRMW Africa, November 3-5, Cape Town (South Africa)
To submit a paper for the above events, simply visit: http://mrmw.net/paper-submission
Covering technology innovation, mobile methodology, business strategy and future scenarios, MRMW offers participants the best platform to prepare for tomorrow's challenges, make new connections and create valuable business opportunities.
Hear what past delegates have to say about MRMW:
"Merlien's MRMW conference is a source of providing incredible energy, ideas and action in mobile market research. Every time I return from MRMW, I'm guaranteed to come back with at least one new idea, one new tool, and one new supplier relationship. The benchmark set by each MRMW conference establishes a high standard for everyone associated with market research." - Jasmeet Sethi, Ericsson
"It's been a great session at Merlien's conference and a very good mix of industry leaders from client-side and agency side. The conference was incredibly interactive and engaging. To be honest, this is the first time I have come on-board and I felt really energized to be part of this conference." - Farrukh Shad, Philips
"Whether it's cutting edge research methodologies or new technology-enabled insights, Merlien's MRMW events help you keep pace with the state of the art and, more importantly, connect with those who will be defining the state of the art in the years to come." - Tico Blumenthal, Medtronic
To find out more about sponsorship opportunities, speaking proposals and registrations, please visit: http://www.mrmw.net or email Jens Cornelissen at jens(at)merlien(dot)org.