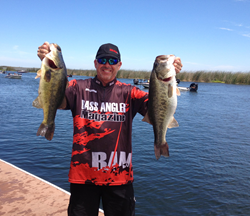 A contest like this is a great opportunity
Yankton, South Dakota (PRWEB) September 30, 2014
The contest, titled Exposed Eligible?, followed the spirit of the ProPatterns behind-the-scenes video series Exposed, which follows Elite anglers on the practice days leading up to Elite events. The competitors were given license to be creative in approach to their short film and encouraged to offer their personal knowledge and experience about the sport. The competition, in its first year, was free to entrants, who submitted their videos through a Facebook application called OfferPop. Through the summer entry period, entrants would gain traction and momentum through fan likes, with the top entrants, based on popular vote, moving on to a second round of judging.
The second round of judging was conducted by a panel of five Exposed pros, each judge compiling their scores independently. For those who made the second-round cut, ProPatterns offers its congratulations and prize packages from the ProPatterns store. The grand-prize winner, announced below, earns a fishing package that includes travel and a day on the water with Elite Pro Timmy Horton, star of Timmy Horton Outdoors. The winner's day of filming with Horton will become part of Season 4 of Exposed.
The winner of this year's inaugural Exposed Eligible? film contest comes to ProPatterns from the state of California. With its blend of thorough educational content and fast-paced action, Mark Lassagne's entry, involving instruction on punching in heavy cover, took the grand prize.
When he submitted his entry this summer, Lassagne told ProPatterns, "A contest like this is a great opportunity to 'expose' myself to a whole bunch of anglers and promote my own sponsors. Plus, I might have the opportunity to fish with Timmy." Lassagne will soon have that opportunity.
In his winning entry, Lassagne, who also serves as Editor-in-Chief of the popular quarterly Bass Angler Magazine, took fans to the California Delta, where he demonstrated how to rig a punch rig for heavy cover fishing, how to find the perfect spot along banks, and how to land big bass in heavy cover. The proof of the efficacy of his techniques can be reviewed in his winning entry.
Other finalists in the Exposed Eligible? film contest include runner-up James Plessinger, who brought fans to Pickwick Lake in Alabama, where he offered techniques for using electronics to find big schools of fish. Jonathan Black was the third place finisher with his entry "Flipping the Shade Lines", which dealt with bringing in fish around docks.
Preston R. Rogers & Johnny Jenkins tied for fourth, while Jason Wayne Hunter (6th), Eddie Johns (7th) and Eric L. Storms (8th) rounded out the finalists list. Though the contest is closed, interested parties can still view all competition videos on the Exposed Eligible? Facebook page. Please note that voting for the Exposed Eligible? film contest is closed and that all votes are final. ProPatterns thanks all those who voted and participated in this year's contest.
For more about ProPatterns, Exposed, the upcoming release of the DVD collection of Exposed Season 3, and the Exposed Eligible? film contest, please visit http://www.ProPatterns.com.
More About ProPatterns, Inc. and Exposed:
ProPatterns, Inc. is a leader of angling education by sharing professional fishing tips, industry information and member services online. In addition, ProPatterns offers prize filled competitions, sharing of information among peers, and connections to industry professionals and media through means available nowhere else.
Information is gathered from various sources and disseminated with members in a variety of ways. The Exposed video series, for example, gains all of its integrity from an alignment with the biggest names in the bass fishing industry including professionals who fish with BASS, FLW, and PAA. Cooperation from the anglers and their willingness to share is the catalyst for the growth of this series.