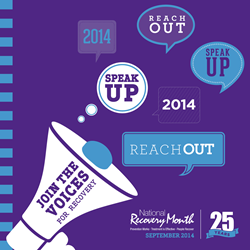 Defining quality of life outcomes has replaced only looking at behavior as a marker of achievement.
Toronto, Ontario (PRWEB) September 30, 2014
Recovery is a word that is widely used in the mental health, addiction communities, and the general population. But what does recovery really mean and how can it be measured? In 2011, SAMHSA (Substance Abuse and Mental Health Services Administration) created a new working definition of recovery: "A process of change through which individuals improve their health and wellness, live a self-directed life, and strive to reach their full potential." (http://www.samhsa.gov/newsroom/advisories/1112223420.aspx)
This is a shift from the "old school" ideas of recovery, a word primarily used in the addictions world for someone who has stopped using drugs or alcohol. The "new" school of thought fulfills a need for a broader definition of recovery and includes mental health recovery. Defining quality of life outcomes has replaced only looking at behavior as a marker of achievement. This allows individuals seeking help and those providing help the flexibility of defining their own ideas of success. It also helps to reduce the stigma around "relapse" of mental health or addiction symptoms or behaviors.
When breaking down the SAMHSA definition of recovery, four elements stand out:
1) Process of Change: Viewing change as a "process" rather than a "task" sets more realistic expectations for individuals who want to make a change. It's understandable to want a "quick fix", but long-term change is an on-going process. It's often more of a winding road than a straight one, whatever the goals are.
2) Health and Wellness: New ideas of recovery focus on the importance of holistic treatment. Priority is given to looking at the context of mental health symptoms and addictive behaviors. Recognizing that they are not isolated allows for more effective treatment planning that includes social, medical, emotional and spiritual elements that exist in one's life.
3) Self-directed Life: This is another positive shift in mental health and addiction treatment. The individual wanting to make the change is in the driver's seat. Treatment providers are a support and can help provide recovery tools, but the individual gets to decide when, how, and at what pace the change will occur. Organizations that focus on harm reduction strategies (rather than more strict or narrow views of recovery) encourage an individual's right to change on their own terms.
4) Full Potential: "Potential" can be viewed in a few ways. Sometimes it's a troublesome word because it is focused on the future rather than recognizing the current strengths and positives an individual has in their lives. On the other hand, it also can be a tool of goal setting and instilling hope. Many individuals who have struggles with mental health or addictions have trouble seeing their own potential. This definition is a reminder that everyone has capabilities beyond their current place.
With this broader definition of recovery, people seeking help are empowered to make changes and are not trapped in someone else's definition of success. National Recovery Month seeks to celebrate and educate about mental health and addiction recovery. For more information about SAMHSA's National Recovery Month Campaign and other recovery resources, follow this link: http://recoverymonth.gov/
If thinking about starting or continuing your path to recovery and live in the Hamilton or Toronto, Ontario area, visit http://soundingboardonline.com for therapy services.