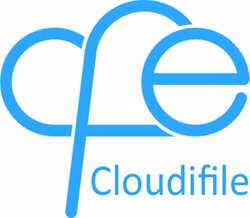 A great amount of people leverage cloud storage because it is simple and clear. That's why we decided to make this service extra protected.
(PRWEB) October 01, 2014
While cloud computing grows rapidly, increasing number of people prefer keeping sensitive data in cloud storages. That led to its becoming a target for malicious attacks. At first, Cloud Labs decided to add a proven security level to Dropbox, because it seems to become the best marketed and well-known cloud platform.
This idea of extra security level was implemented in Cloudifile. It uses best-industry-standard encryption algorithms (AES256 encryption in combination with RSA asymmetric encryption and Blowfish algorithm) to keep user files safe. As the solution doesn't store Cloudifile login/password anywhere, even if somebody cracks Dropbox security – they will find nothing but securely encrypted files in user account. Users also don't depend on Cloud Labs infrastructure, as the system doesn't store any encryption keys on external servers. All these facts make Cloudifile to become an extra protected Dropbox layer that currently has no analogues on the market.
Another one Cloudifile benefit is its simplicity. It easily integrates into the file explorer, so user can just pick the data to protect - and selected files will be securely encrypted and automatically sent to cloud. Thus, there is no need to waste time on manual data moving to Dropbox folder. Combination of virtual file and virtual disc technologies allows user to work with protected files at its usual locations just as before. All these features give users a sense of caring about them and make their life easier.
Cloudifile is also an ideal security tool for newer Dropbox users. They can easily start from scratch by automating protection process. User can just set up rules for the new or existent folders and documents, according to which newly created or copied files will be automatically encrypted and synchronized with cloud.
"A great amount of people leverage cloud storage because it is simple and clear. That's why we decided to make this service extra protected. It's extremely difficult to balance both proven security and access simplicity. We set this ambitious goal, worked hard and finally have reached the golden mean." said Dennis Turpitka, CEO, Cloud Labs.
Cloudifile is an ambitious project that is entering cloud security market. Meanwhile, Cloud Labs team doesn't stop, but continues to develop at the rapid pace. Their next intension is to expand the list of supported platforms. Cloud Labs invites everybody to visit http://www.cloudifile.com for more information and to download beta. All the users are welcome to leave their comments, because early feedback from the market can help to improve solution according to customer needs.
Cloud Labs – is a digital security company that use broad technology and project experience to create inspiring, problem-solving, yet compact solutions for digital security market. Cloud Labs team unites software researchers, security system designers, kernel and system driver specialists, as well as certified security software quality assurance experts.
http://www.cloudlabscorp.com
info(at)cloudifile(dot)com