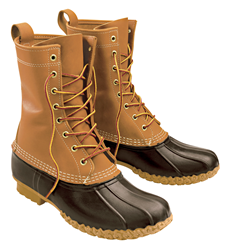 Being our westernmost store, the Denver area is a great fit for L.L.Bean. We look forward to introducing Maine to the Mile High City.
Freeport, maine (PRWEB) September 30, 2014
Outdoor retailer L.L.Bean, best known for its iconic Maine-made Bean Boot and 100% satisfaction guarantee is set to expand its retail operation with the opening of its first Colorado store. The new L.L.Bean store will be located in the popular Park Meadows Retail Resort, next to the main entrance. The 13,000 square-foot store will employ approximately 80 people and will feature an assortment of active and casual apparel and footwear, outdoor gear including hiking, fly-fishing, kayaking and winter gear and camping products. L.L.Bean is currently hiring for this store. Employment opportunities can be found at http://www.llbean.com/employment. This will be L.L.Bean's first store in Colorado and its 22nd retail store outside of Maine.
"Our stores are where the L.L.Bean catalogs and web site come to life for our customers," said Ken Kacere, senior vice-president and general manager of retail at L.L.Bean. "It's very exciting to be opening our first Colorado store in an area that is just steps away from countless opportunities for outdoor recreation. Being our westernmost store, the Denver area is a great fit for L.L.Bean. We look forward to introducing Maine to the Mile High City."
L.L.Bean made the decision to expand its retail presence into Colorado due to the proximity to abundant natural resources and opportunities for many outdoor activities, as well as a love of the outdoors that most Coloradoans share. The store will allow the people of Douglas and Denver Counties and beyond to experience first-hand everything that the legendary outdoor retailer has to offer.
Of particular note will be the inclusion of L.L.Bean's Outdoor Discovery Schools, which will offer a wide variety of demonstrations, clinics and introductory hands-on activities like snowshoeing, kayaking, stand-up paddleboarding, archery and fly casting, all designed to make it as easy as possible for people to engage in outdoor activities for health, fitness and recreation. L.L.Bean Outdoor Discovery Schools courses are offered at every L.L.Bean Retail Store. In 2013, over 100,000 people participated in these programs.
"We are very excited to welcome L.L.Bean to Park Meadows," said Parke Meadow's senior general manager Pam Kelly. "Their brand is classic and one that fits perfectly within the Colorado lifestyle. Plus, this being their westernmost location is another bonus for our shoppers and for our community."
The new L.L.Bean store in Colorado is scheduled to open in mid-November, with a three-day grand opening celebration. Earlier this year, L.L.Bean announced two additional new store locations in Burlington, VT, schedule to open in early November and in Bloomington, MN, at the Mall of America® schedule to open in mid-November.
About L.L.Bean, Inc.
L.L.Bean, Inc. is a leading multichannel merchant of quality outdoor gear and apparel. Founded in 1912 by Leon Leonwood Bean, the company began as a one-room operation selling a single product, the Maine Hunting Shoe. Still family owned, Shawn Gorman, great grandson of Leon Leonwood Bean, was named Chairman of the Board of Directors in 2013. While its business has grown over the years, L.L.Bean continues to uphold the values of its founder, including his dedication to quality, customer service and a love of the outdoors. L.L.Bean products are rigorously tested, guaranteed to last and always shipped free. In the past five years, L.L.Bean has donated over $6 million toward conservation and land stewardship. The 220,000 sq. ft. L.L.Bean retail store campus in Freeport, ME, is open 24 hours a day, 365 days a year and welcomes more than 3 million visitors every year. L.L.Bean can be found worldwide at http://www.llbean.com, Facebook, Twitter, YouTube, Pinterest, Google+ and Instagram.
# # #