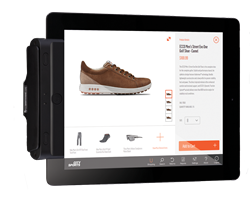 ...executives refer to it as a "revenue capture device"...
Seattle, WA (PRWEB) September 29, 2014
Leading omnichannel platform provider UniteU introduced UMO®, a fully integrated mobile POS solution for multi-location retailers, today in conjunction with the National Retail Federation's Shop.org Summit in Seattle. The offering, which includes tablet hardware, barcode scanner, credit card reader, the UniteU Commerce™ software-as-a-service platform and transaction engine, and the UMO tablet application, is the latest in retail solutions from UniteU Technologies, Inc.
"The UMO solution goes well beyond the capabilities of mobile POS solutions that have swept the retail environment this past year," said Soumen Das, CEO at UniteU. "UMO fully integrates into existing backend systems as well as the retailer's eCommerce system, enabling retailers to completely transform their in-store retail experience."
Analysts rank transforming the customer experience as the primary, foundational pillar for retailers. In the September 2014 Forrester Research Inc. report [Commerce Technology and Platform Trends -- 2014], Forrester analysts Peter Sheldon and Lily Varon point out that "In the age of the customer, brands seek a unified experience between the six stages of the customer life cycle (discover, explore, buy, use, ask, and engage)."
Because UMO can fully integrate with existing backend systems— including software providers such as Retail Pro, Microsoft Dynamics AX, Epicor, Microsoft RMS and Counterpoint—it makes it easy for sales associates to access inventory from multiple locations, including Web inventory, and other stores or distribution centers. For retail management this means that inventory, accounting, eCommerce and ERP systems are updated in real-time.
For consumers this integration and endless aisle capability can create an enormous difference in their in-store experience. "With UMO, consumers suddenly have access to both in-store and off-site inventory," said Mike Montrose, Vice President of Sales at UniteU. "If there's an item they want that isn't available in the store, the associate can simply select it, mark it as a ship-to item, and check it out with the other in-store items in one smooth transaction."
Another UMO feature that transforms the in-store experience is the built-in recommendation engine. UMO lets the consumer and the sales associate know about commonly-bundled items, related items and accessories, whether they're available in-store or off-site. "The recommendation engine increases in-store average order values and in-store conversion rates because suddenly sales associates are empowered with upsell and cross-sell information, and consumers have access to more of the products they want," said Montrose. A June 2014 report published by Forrester Research Inc. [The State of The Digital Store] reveals, "Perry Ellis…experienced a 14% lift in average order volume once it implemented 'endless aisle' capabilities in-store."
One of the biggest challenges with mobile POS solutions is the inability to combine on-site and off-site checkouts. UMO addresses this by processing mixed in-store and ship-to transactions, with its innovative Unified Transactions™ technology—making them appear as a single transaction for the consumer, but on the backend ensuring that each disparate system receives the information it needs. This streamlines the buying process and minimizes confusion for the consumer and sales associate alike. It also increases efficiency, taking what can typically be a 15- to 20-minute process on two systems (kiosk and POS), and turns it into a single transaction that can be performed in under two minutes.
Successful UMO implementations, including those by City Sports and American Solutions for Business, have generated dramatic sales increases and have prompted executives to refer to it as a "revenue capture device." Further details about UMO can be found at http://www.UMO mobilepos.com.
About UniteU Technologies (http://www.uniteu.com):
UniteU creates technology that allows retailers to provide unified commerce experiences across channels and devices. UniteU offers a wide range of modular commerce solutions and services including responsive eCommerce websites for desktops and tablets, Hybrid Responsive™ smartphone commerce sites, UMO® integrated mobile POS for transacting in-store and at events, SendReady™ email validation services and UniteU Commerce™, UniteU's powerful, core software-as-a-service (SaaS) commerce platform that embodies more than 15 years of omnichannel insights and high-volume experience. Superior technology and performance has resulted in an impressive client list that includes City Sports, Joes Jeans, Pharmaca, the Miami HEAT, American Solutions for Business, and all Worldwide Golf Shops properties and brands, including Edwin Watts and Roger Dunn.