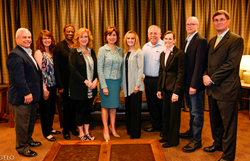 "It is an honor to serve on the board for the Association of Small Business Development Centers and I look forward to continuing to work alongside my fellow board members to promote and strengthen the impact of America's SBDCs across the country" -Conroy
PHILADELPHIA, Pa. (PRWEB) September 30, 2014
The Pennsylvania Small Business Development Centers (SBDC) have announced that State Director Christian Conroy has been elected vice chair of the Board of Directors of the Association of Small Business Development Centers. Conroy will serve for two years in this capacity representing America's SBDC system of nearly 1,000 centers across the country.
As a board member of the Association since 2012, Conroy will continue to work as part of the ten-member team of SBDC state directors representing the program at the national level advocating for small business and building on the program's record of economic impact.
"It is an honor to serve on the board for the Association of Small Business Development Centers and I look forward to continuing to work alongside my fellow board members to promote and strengthen the impact of America's SBDCs across the country," said Pennsylvania SBDC State Director Christian Conroy.
Conroy is also a member of the Association's accreditation and marketing committees, and will continue to serve in these capacities in addition to his role as vice chair. The full listing of the Association's board members is as follows:
Mark Petrilli - Board Chairman
State Director, Illinois SBDC
Christian Conroy - Vice-Chair
State Director, Pennsylvania SBDC
Janice C. Washington - Treasurer
State Director, Arizona SBDC
Mary Peters - Board Secretary
Associate Director – Operations, South-West Texas Border SBDC
Michele Abraham
State Director, South Carolina SBDC
Diane Howerton
Regional Director, UC Merced SBDC
Kristina Oliver
State Director, West Virginia SBDC
Greg Panichello
State Director, Kansas SBDC
Georgianna Parkin
State Director, Massachusetts SBDC
Mike Young
Regional Director, University of Houston SBDC Network
The Association represents America's SBDC, the nation's proven, cost-effective, and accredited network focused on small businesses—America's job creators. With a depth of expertise, America's SBDC connects small business owners and entrepreneurs with over 5000 business consultants and professionals at leading colleges and universities. America's SBDC core federal funding from the U.S Small Business Administration leverages the continuation of the nation's largest and most effective small business assistance program.
In FY 2013, America's SBDC services included business consulting for 201,569 clients, training sessions for 330,781 attendees, and other forms of targeted assistance for approximately 532,377 small businesses and aspiring entrepreneurs. Clients of America's SBDC nationwide received more than 1.3 million total hours of consulting services in FY 2013.
About Pennsylvania Small Business Development Centers (SBDC)
The Pennsylvania SBDC network is the only statewide, nationally accredited program that provides high quality one-on-one consulting, training and information resources to empower new and existing businesses. SBDC consultants work with entrepreneurs in confidential, individualized sessions to help them with a range of business issues including testing a new business proposition, shaping a business plan, investigating funding opportunities, and much more. The SBDC program is a public/private partnership with the U.S. Small Business Administration, the Pennsylvania Department of Community and Economic Development and 18 universities and colleges across the Commonwealth. For more information on the Pennsylvania SBDC services and impact, please visit http://www.pasbdc.org.