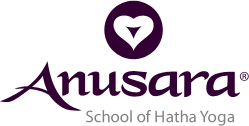 Anusara's big-picture policy includes carrying yogic lessons and spiritual growth off the mat and into all aspects of daily life.
(PRWEB) September 30, 2014
As the Anusara School of Hatha Yoga (http://www.anusarayoga.com/) approaches its second anniversary in November 2014, Integrated Health Yoga Therapy (http://www.ihyt.org/) and its founder and certified Anusara teacher Karen Claffey are proud to credit the role of Anusara methodology in IHYT training programs, particularly with regards to its life-affirming 'inside-out' philosophy, its rigorously analytical yet deeply personal and adaptable Universal Principles of Alignment™, and its big-picture policy of carrying yogic lessons and spiritual growth off the mat and into all aspects of daily life.
Anusara Yoga is a modern yoga school founded in North America in 1997 that embodies a traditional body-mind-spirit, health-oriented yoga practice. The new teacher-run Anusara School of Hatha Yoga, celebrating its second year of existence, is providing a fresh, refined expression of this pursuit, offering expert, experienced guidance in training new Anusara teachers, sharing the Anusara vision with the broader yogic community, and creating "a safe and joyful environment for all its participants to grow and become more connected to their swadharma -- their true path."
The term 'Anusara' can be interpreted in many ways, including 'flowing with Grace", 'flowing with Nature', and 'following your heart'. Anusara philosophy begins with the idea of an intrinsic energy of Oneness or goodness underlying existence. A large part of practicing yoga, then, lies in students opening themselves to the grace of this all-encompassing energy and, through skillful and mindful effort, allowing their practice to enhance and reveal their own innate beauty and goodness.
One way the Anusara School of Hatha Yoga defines its practice is in terms of the 3 A's: Attitude, Alignment, and Action. Attitude requires, simply put, a softening of our personal boundaries, an opening to grace, and a surrender to something bigger beyond ourselves. Alignment refers not only to physical alignments within poses but also to an alignment of all our efforts toward the expression of our deepest intentions. It requires an intense and conscious awareness of all those interrelationships within body, mind, and spirit, and with that universal Oneness beyond. Action is the tangible manifestation of attitude and alignment, in which energy follows its natural flow through the body, both rooting us to the foundation of universal goodness and allowing us to explore it with a sense of balance and wonder and joyful creativity.
All Anusara practice is also performed in reference to the Universal Principles of Alignment™, 'a unique set of concise bio-mechanical alignment principles.' These Principles shape and hone both teacher and student's ability to create a uniquely empowering experience of proper attitude, alignment, and action within an individual yoga practice. These Principles are: Opening to Grace, Muscular Energy, Inner Spiral, Outer Spiral, and Organic Energy. Each principle has both spiritual and physical elements, and carries its own postural applications. For any given asana these postural alignments are balanced with all 5 Universal Principles.
The Universal Principles of Alignment ™ form not only a constant spiritual connection to the universal goodness but also a precise anatomical understanding of energy flow and subsequent postural applications with significant restorative applications for a variety of physical conditions and dis-eases. A great example of this is IHYT's own Structural and Subtle Alignment Therapy (SAT) program, blending Anusara methodology with knowledge of modern scientific research and medical practice. All 3 SAT modules have been approved as College of Massage Therapists of Ontario CEUs. More detailed information can be found at http://www.ihyt.org/#!structural-alignment-therapy/c1k6g.
There is an old Chinese proverb sometimes attributed to Taoism-founder Lao-Tze: "Give a man a fish and you feed him for a day. Teach a man to fish and you feed him for a lifetime." Anusara Yoga, at its heart, works toward teaching students to fish, allowing the yoga practitioner to constantly seek out and reveal their true potential within the grace of the universal goodness, and to take the progress of their quest for physical and spiritual alignment with their deepest intentions off the mat and into their daily lives. IHYT is proud to be a part of Anusara's truly revolutionary process. For more Anusara yoga programs and workshops check out http://www.anusarayoga.com/ashy-events/
About Integrated Health Yoga Therapy
IHYT is a yoga therapy school for a wide range of health professionals whose practices might benefit from the skill-sets and philosophy underlying therapeutic yoga. Yoga therapy is becoming more and more recognized and utilized by the medical-scientific community as a safe and effective complementary therapy and treatment in a wide range of conditions. IHYT offers a carefully selected curriculum of evidence-based educational programs taught by faculty who are leaders in their respective fields, as outlined on our website at http://www.ihyt.org/