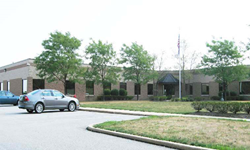 "We've had great success in Cleveland," said Ben Struewing, Hackman Capital's Vice President of Leasing, Sales and Acquisitions. "In just a year, we've executed 15 leases here."
COLUMBUS, OH (PRWEB) October 01, 2014
Hackman Capital Partners, LLC, a national real estate investment firm based in Los Angeles, announced today that AkzoNobel has leased the 77,500-square-foot facility at 8220 Mohawk Drive in Strongsville, a Cleveland suburb. The Class-A facility is one of 13 properties owned by a Hackman Capital affiliate in the Cleveland area and one of 78 in Ohio.
A selection of AkzoNobel's Performance Coatings businesses will be taking the entire, freestanding building to house one of its global research and development centers focused on metal coatings. The Dutch multinational, is a world-leading producer of paints, coatings and specialty chemicals. Its performance coatings businesses are focused on the company's four end-user segments (Buildings & Infrastructure, Transportation, Consumer Goods and Industrial), supplying high performance products and cutting-edge technologies primarily to business-to-business customers.
"We're excited to have AkzoNobel as a tenant and are thrilled we could accommodate their needs in Strongsville. We also appreciate the efforts of the city, which helped retain the company here," said Managing Director David Smith, who oversees Hackman Capital's regional office in Columbus, which manages approximately nine million square feet of the more than 25-million-square-foot national portfolio owned through various Hackman Capital affiliated entities.
Hackman Capital entered the Ohio market in July, 2012 as part of a 2.8-million-square-foot industrial portfolio acquisition. That purchase was followed, a year later, by another large Ohio portfolio acquisition with affiliates of New York-based Square Mile Capital Management, LLC, totaling 2.56 million square feet and including 1.6 million square feet in the Cleveland area.
Since taking over the Cleveland properties in 2013, and counting the AkzoNobel lease, Hackman Capital has brought the occupancy rate of the Cleveland buildings up to 90%, a significant increase from 76% occupancy at the time the properties were initially purchased.
"We've had great success in Cleveland," said Ben Struewing, Hackman Capital's Vice President of Leasing, Sales and Acquisitions. "In just a year, we've executed 15 leases here—more than 129, 000 square feet in new deals, 190, 000 square feet in renewals and expansions—and we've sold three buildings totaling over 354,000 square feet, with another currently in negotiation."
According to Struewing, Hackman Capital's success in Cleveland—and throughout Ohio—can be attributed to the quality of the assets and their locations in highly competitive submarkets. He also credits the efforts of the company's listing brokers.
"Our broker teams are extremely knowledgeable and exceptionally diligent. We couldn't have achieved these milestones without them," Struewing said.
George Stevens and David Ford from CBRE represented the Hackman Capital affiliate in the AkzoNobel transaction. CBRE's Fred Herrera represented AkzoNobel. Stevens and Ford also are the listing brokers for Hackman Capital's property at 5335 Avion Park Drive in Highland Heights.
Representing Hackman Capital in the company's other Cleveland area transactions were Terry Coyne, from Newmark Grubb Knight Frank and Matt Beasley from CRESCO Real Estate/Cushman & Wakefield.
More About Hackman Capital Partners
Founded in 1986, and based in Los Angeles, Hackman Capital Partners is a privately held, asset-based investment firm that focuses on the acquisition of industrial real estate. Hackman Capital currently owns, through its affiliated entities, 270 facilities throughout the United States, totaling more than 25 million square feet and 10,000 acres of developable land—representing over $1 billion in value. From its office in Columbus, Ohio, the company manages approximately nine million square feet of properties in Ohio, Michigan, Georgia, Virginia, Texas and Northern Mexico. For more information, visit the company website at http://www.hackmancapital.com.
More About AkzoNobel:
AkzoNobel is a leading global paints and coatings company and a major producer of specialty chemicals. We supply industries and consumers worldwide with innovative products and are passionate about developing sustainable answers for our customers. Our portfolio includes well-known brands such as Dulux, Sikkens, International and Eka. Headquartered in Amsterdam, the Netherlands, we are consistently ranked as one of the leaders in the area of sustainability. With operations in more than 80 countries, our 50,000 people around the world are committed to delivering leading products and technologies to meet the growing demands of our fast-changing world.