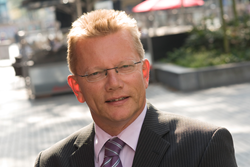 The revision to ISO 22000 will align it with ISO's high level structure – Annex SL – and will cover the comments on improvements received so far.
(PRWEB UK) 30 September 2014
The ISO Technical Committee for management systems for food safety, TC34 SC17, met recently in Copenhagen for its annual meeting to discuss the revisions to the international food safety management system standard, ISO 22000, among other key topics.
Cor Groenveld, LRQA's Global Head of Food Supply Chain Services and the Chair of the Board of the Foundation for Food Safety Certification (owner of the FSSC 22000 certification scheme), is a member of TC34 SC17, the working group responsible for the revision of ISO 22000. Cor reported that, "the revision to ISO 22000 will align it with ISO's high level structure – Annex SL – and will cover the comments on improvements received so far. The aim at this stage is for the revised ISO 22000 standard to be published in 2017 at the latest."
With the latest ISO Survey showing a 15% year-on-year increase in the number of ISO 22000 certificates issued, LRQA anticipates a high level of interest in the revision to this standard and will continue to support users with expert insight and a range of training, gap analysis and assurance services, to enable clients to make a smooth transition to the revised standard when it is published.
A separate working group has started to develop ISO-TS 22002-6, which sets out the prerequisite programmes for animal feed production.
Through LRQA's membership of the Independent International Organisation for Certification (IIOC), LRQA participates in all of the major committees helping to shape the future of the world' leading ISO standards including ISO 9001 (quality management), ISO 14001 (environmental management), ISO 22000 (food safety) and ISO 45001 (the new ISO standard for occupational health and safety, set to replace OHSAS 18001).
END
Notes to editors
About LRQA
LRQA is a member of the Lloyd's Register group. LRQA is a leading independent provider of assurance services including assessment, certification, validation, verification and training across a broad spectrum of standards and schemes.
LRQA has been at the forefront of communicating the changes to ISO 9001 and ISO 14001. Our range of services encompasses gap analysis, training (including in-company management briefings and transition planning and facilitation workshops) and assessment. Our services are designed to make the transition to the new standards as seamless as possible for the many thousands of clients that we serve worldwide. To find out more, visit http://www.lrqa.com or email enquiries(at)lrqa(dot)com.
About Lloyd's Register
Lloyd's Register (LR) is a global engineering, technical and business services organisation wholly owned by the Lloyd's Register Foundation, a UK charity dedicated to research and education in science and engineering. Founded in 1760 as a marine classification society, LR now operates across many industry sectors, with over 9000 employees in 78 countries.
Lloyd's Register has a long-standing reputation for integrity, impartiality and technical excellence. Our compliance, risk and technical consultancy services give clients confidence that their assets and businesses are safe, sustainable and dependable. Through its global technology centres and research network, Lloyd's Register is at the forefront of understanding the application of new science and technology to future-proof its clients' businesses.