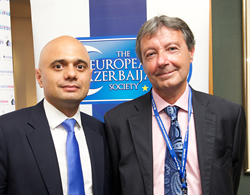 Azerbaijan is a friend to the West and one of the future guarantors of energy security for the EU.
Birmingham, UK (PRWEB UK) 29 September 2014
Press Release: More than 200 delegates at the 2014 Conservative Party Conference in Birmingham attended a drinks reception jointly hosted by Conservative Home (ConHome) and The European Azerbaijan Society (TEAS) on 28 September. Held at the Castle Fine Art Gallery in the International Conference Centre (ICC), the event provided a rare opportunity to sample Azerbaijani wine and brandy, which is renowned for its quality across many countries in Eastern Europe.
The Guest of Honour was the Rt. Hon Sajid Javid MP, Secretary of State for Culture, Media and Sport, and former Minister for Equalities. Since his election in 2010, he has received many accolades. Considered by Jack Straw, former Foreign Secretary, to be one of the best new MPs for over 30 years, the Daily Telegraph included him in its list of the Top 100 Most Influential Figures from the Right. Many commentators have tipped him as a potential frontrunner for the future leadership of the Conservative Party.
Mr Javid said: "I am pleased to be a supporter of ConHome and honoured to call Tim Montgomerie – founder of ConHome – a friend. In my view, there are three reasons for optimism in the UK, as we draw nearer to the General Election. Firstly – we have lower youth unemployment than ever before – in fact, there has been job creation during the time the Coalition has been in office. Secondly, the Coalition has generated more jobs during the past four years than any of the other 27 EU nation states. Thirdly – it was right and proper than the momentous Scottish independence referendum took place. Labour and the Liberal Democrats were against this, and the UK Independence Party (UKIP) couldn't table such a vote, but we felt that Scotland needed to decide, once and for all. It's now only fair that solely English MPs will be eligible to vote on English laws and that Scottish MPs can no longer have any impact on the future of our country. This decision will be down to you – the grassroots Conservatives."
Lionel Zetter, Director, TEAS commented: "It's great to see so many of you here tonight, drinking wine and brandy from Azerbaijan – a very modern and moderate Muslim state in a troubled region. TEAS is entirely apolitical and hosts events at all three main party conferences. We have partnered with ConHome for several years, and intend to continue organising receptions of this kind. Azerbaijan is a friend to the West and one of the future guarantors of energy security for the EU. The UK contributes over half of all Foreign Domestic Investment to Azerbaijan, chiefly through the operations of BP and related companies, and it is my sincere hope that this relationship will develop from strength to strength."