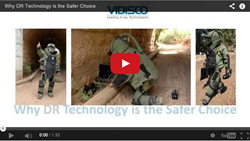 With just one approach and instant images, DR technology is a better choice for Security Operators...
(PRWEB) September 30, 2014
Vidisco created a new video clip that was added to its YouTube channel and website explaining why digital radiography is the safer choice for bomb technicians and other security personnel. Some of the reasons outlined in the video clip include the fact that only one approach is necessary when using digital radiography and that images are available in seconds on the system's computer screen. These features among others are critical when lives hang in the balance.
Vidisco created its line of portable digital X-ray security system with the security operator in mind and is in constant contact with those using the systems in the field. For this reason, the systems are extremely convenient and easy to use in almost any weather or terrain. With ruggedized, portable, battery operated and wireless features, it is hard to compete with systems like the FlashX, RayzorX and BoltX.
On Vidisco's website and YouTube Channel, there is an array of different clips about its products, the systems' different features and about the company itself. There are also several clips about the different applications that Vidisco's portable digital X-ray systems are used for.
Ron Pincu, Vidisco's VP Marketing, stated: "We are happy to launch a new video clip that describes the safety of using our portable digital X-ray systems. With just one approach and instant images, DR technology is a better choice for security operators, as in their jobs each moment is of the essence and approaching objects can be very dangerous. We plan to keep developing products that will make the security operators' jobs a bit easier and safer."