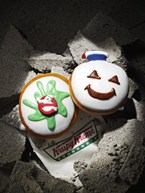 Krispy Kreme and Sony Pictures Consumer Products have joined together to mark the 30th Anniversary of the Ghostbusters franchise with an exclusive offer of two new marshmallow Kreme™-filled treats inspired by the film's sweetest villains
Winston Salem, NC (PRWEB) September 30, 2014
This season, Krispy Kreme Doughnuts® has tricked-out its Halloween-themed treats with a mashup of spooktacular favorites and two new ghostly good creations. The Jack-o-Lantern, Spider Web, and Halloween Sprinkles doughnuts pair up with Krispy Kreme's NEW Ghostbusters and Stay Puft Marshmallow Doughnuts in a Halloween assortment so good- It's Spooky! Available now through October 31, 2014 at participating Krispy Kreme US and Canadian locations. While supplies last.
Make your next Halloween fright fest a little sweeter with a dozen of these monsterrific munchies: Product and availability may vary by market.

Jack-o-Lantern Doughnut: A pumpkin-shaped doughnut wearing a mask of orange icing and a jack-o-lantern face.
Halloween Sprinkles Doughnut: A festive orange and black sprinkled doughnut.
Spider Web Doughnut: A chocolate-iced doughnut with Kreme™ filling caught in a tasty web of white icing.
Krispy Kreme and Sony Pictures Consumer Products have joined together to mark the 30th Anniversary of the Ghostbusters franchise with an exclusive offer of two new marshmallow Kreme™-filled treats inspired by the film's sweetest villains:
Ghostbusters Doughnut: A marshmallow Kreme-filled shell topped with white icing, a decorative green "splat" inspired by Slimer, and a Ghostbusters logo sugar piece.
Stay Puft Marshmallow: A marshmallow Kreme-filled shell topped with white icing, decorated with Stay Puft Marshmallow Man's familiar face and a sugar piece hat.
Connect with Krispy Kreme and Ghostbusters at http://www.KrispyKreme.com, http://www.Ghostbusters.com, HotLightApp.com, Facebook, foursquare and Twitter, and KrispyKremeDoughnuts on YouTube.
About Sony Pictures Entertainment
Sony Pictures Entertainment (SPE) is a subsidiary of Sony Entertainment Inc., a subsidiary of Tokyo-based Sony Corporation. SPE's global operations encompass motion picture production, acquisition and distribution; television production, acquisition and distribution; television networks; digital content creation and distribution; operation of studio facilities; and development of new entertainment products, services and technologies. For additional information, go to http://www.sonypictures.com.
About Krispy Kreme
Krispy Kreme is an international retailer of premium-quality sweet treats, including its signature Original Glazed® doughnut. Headquartered in Winston-Salem, N.C., the Company has offered the highest-quality doughnuts and great-tasting coffee since it was founded in 1937. Krispy Kreme is proud of its Fundraising program, which for decades has helped non-profit organizations raise millions of dollars in needed funds. Today, Krispy Kreme can be found in over 850 locations in more than 20 countries around the world. (NYSE: KKD) is listed on the New York Stock Exchange. Visit us at http://www.KrispyKreme.com.
# # #
Contact: Lafeea Watson- PR and Media Manager
Phone: 336-726-8878
Email: lwatson(at)krispykreme(dot)com