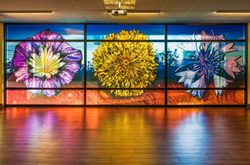 Imagine Glass was a perfect medium to showcase Meg Saligman's beautiful and warm designs and add a friendly, welcoming element to the space
(PRWEB) October 03, 2014
Imaging Sciences, LLC announced that its Imagine GlassTM was recently used in a feature wall at the Jon Bon Jovi Soul Homes, a new building in Philadelphia that includes office and retail space as well as 55 homes for low-income and previously homeless families which is part of a community called Project HOME.
"Growing Free," a glass curtain wall, incorporates a series of striking floral images by artist Meg Saligman of MLS Studios and Imagine GlassTM by Imaging Sciences. According to Saligman, the vibrant images represent the tenacious wildflowers that grew in the cracks of the vacant lot on which the building was erected.
"These flowers are like the Project HOME community: beautiful, strong and growing to their potential against all odds," says Saligman. "Within these flowers, view photographs representing 25 years of Project HOME."
Imagine GlassTM from Imaging Sciences provided a fitting and innovative medium for the feature wall. By laminating a decorative film interlayer between layers of glass, Imagine GlassTM is safety glass, similar to that used in automobile windshields. A decorative glass that is practical for use in a variety of architectural applications, Imagine GlassTM has several benefits as an architectural material: It is penetration-resistant, providing a layer of security from break-ins; it has acoustical qualities that help provide a quieter environment; its colors are long-lasting; it is energy efficient; and it provides 99% UV protection for your interior fabrics and upholstery to keep them from fading.
Imagine GlassTM can be used in a variety of applications, including curtain walls, feature walls, balustrades, doors and windows, signage, canopies, public art, residential uses and even furniture.
"Imagine Glass was a perfect medium to showcase Meg Saligman's beautiful and warm designs and add a friendly, welcoming element to the space," says Geoff Brown, President of Imaging Sciences. "Our laminated safety glass provides an interesting decorative element to the room while making the most of the available light."
About Imaging Sciences LLC
Based in Willoughby, Ohio, Imaging Sciences, LLC is known for providing "Decorative Glass for the Imagination." Imagine GlassTM laminated safety glass allows for many different looks, uses and special effects. This versatile architectural glass serves as a medium for creative expression while working with natural light and providing a connection with the world outside.
Imaging Sciences can also work with clients to create beautiful custom decorative window film that allows for easy design changes. For more information on Imagine GlassTM and all of Imaging Sciences, LLC's custom architectural glass products, visit http://www.imaging-sciences.com.
For more information about Meg Saligman's work, you can contact her at meg(at)megsaligman(dot)com, or view her Instagram posts: #phillyfineartsquad.