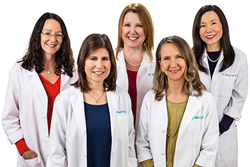 "Breast cancer is the number one killer of women in ages 40 to 55. All the GYN cancers combined equal just one third the incidence of breast cancer yet women go to gynecologist every year," said Dr. Elliott, MD, FACS founder of Montclair Breast Center.
Montclair, New Jersey (PRWEB) September 30, 2014
According to The American Cancer Society, "The goal of screening exams for early breast cancer detection is to find cancers before they start to cause symptoms."
Dr. Elliott, founder of Montclair Breast Center says, "We have perfected the early detection of breast cancer and I am pleased to report that between June 2011 and June 2014, 100% of Montclair Breast Center's established patients — those having consecutive annual screening mammograms performed here — who were found to have breast cancer were diagnosed at the most treatable Stage 0, Stage 1 and very rarely Stage 2."
In 1998, Dr. Elliott chose to become an out-of-network breast center. She says that she had become increasingly frustrated in her quest for 100% early detection by the procedural dictates and restrictions imposed by managed health care providers on the quality of care and amount of time she felt her patients deserved. Dr. Elliot feels her decision to follow her private, individualized approach to patient care was the key to reaching 100% early detection. In 2011, when statistics were last made available by the National Cancer Database, the national average for early diagnosis of breast cancer at Stages 0, 1 and 2 was just 85.5%. *
Dr. Elliott feels that all women deserve the level of breast care she provides and encourages women to consider finding their own breast doctor. She says, "Women research a lot of things that are important to them; they research where they get their hair done and what restaurants they go to but very few know who read their last mammogram, which is one of the most important decisions they can make. Women should have a breast doctor because breast cancer is the number one killer of women in ages 40 to 55. All the GYN cancers combined equal just one third the incidence of breast cancer yet women go to a gynecologist every year."
The physicians at Montclair Breast Center report that reaching 100% early detection for their patients requires their collective team effort by women physicians, including:
•Specially trained breast surgeons and Fellowship Trained breast radiologists with a minimum of 15 years of experience reading only breast images.
•Complete onsite screening technology, including 3D Mammography, Breast Ultrasound and Breast MRI.
•Comparative review of current mammogram with previous mammogram results and patient history.
•Breast density evaluation.
•SAME DAY consultation with a breast imaging specialist.
•Individualized patient risk analysis for breast cancer.
•Additional studies performed while patients are still in the center, lessening rescheduling, waiting and patient anxiety.
•On site vacuum-assisted stereotactic biopsy.
•Uncompromised patient care and a long-term meaningful doctor-patient relationship.
Dr. Elliott suggests that the benefit of this approach is demonstrated by the unprecedented results achieved — 100% early detection of breast cancer.
For more information about Montclair Breast Center and the 2014 Patient Outcome Statistics, visit Montclair Breast Center, or call 973-509-1818.
About Montclair Breast Center
Montclair Breast Center is a premier multidisciplinary breast center located at 37 N. Fullerton Avenue in Montclair, NJ, specializing in proactive breast healthcare, risk-reduction techniques and the early detection and treatment of breast cancer. Our nationally recognized, dedicated team of breast imagers and breast surgeons use the most sophisticated technologies housed in our own facility and are committed to providing the best possible rate of early detection. Visit http://www.montclairbreastcenter.com for specifics. In 1998, Montclair Breast Center became an out-of-network breast center to provide care solely dictated by the needs of our patients, uncompromised by the restrictions and limitations imposed by managed healthcare corporations.
About Dr. Nancy Elliott:
One of the first Fellowship-trained breast surgeons in the United States, Dr. Elliott started her Montclair practice in 1989. She completed training in breast disease at UMDNJ/Robert Wood Johnson University Hospital. She received her medical degree from Mount Sinai Medical Center and completed a general surgery residency at St. Vincent's Hospital, in New York City. Dr. Elliott graduated with honors from Barnard College, Columbia University.
*NCDB Analytic Cases: Disease Site by American Joint Committee on Cancer Stage" Diagnosis Year 2011. The National Cancer Data Base (NCDB) is a joint program of the Commission on Cancer (CoC) of the American College of Surgeons (ACoS) and the American Cancer Society (ACS) https://cromwell.facs.org/BMarks/BMCmp/ver10/Docs