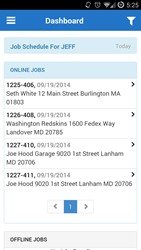 Burlington, MA (PRWEB) September 30, 2014
Intac International LLC, leading provider of field service software Wintac, today announces the general availability of their new App for Wintac subscribers. The app is available on all Android devices, including tablets and mobile phones.
The new app is available for free download with the installment of the latest Wintac Web Portal, which is available as an add-on to the Wintac software suite. The Wintac Web Portal provides field techs mobile access to Wintac's database, which allows field technicians to access vital customer and job information while they are in the field. Field technicians can view their work schedule, update work orders, create invoices, collect payments and create proposals in the field.
Previously, field technicians had to open a browser on their mobile device to access the Web Portal. With the new Wintac App, access to the web portal's most commonly used features is available through the app interface with the extended ability to work in offline mode.
Of course, field technicians are not always guaranteed Internet access – the app has a rich set of offline capabilities as well. Users with no Internet connection can view the current day's job schedule, edit their schedules to add new customers and jobs, edit jobs and convert work orders into invoices or proposals.
The app will work on any Android device. Intac International will be rolling out iOS versions of the app in the near future.
"We're very excited to add this app to our product suite," said Deanna Duffy, Intac's COO. "The app is going to make using our software in the field even easier for field service techs. That's the real goal of our organization – to make field service logistics easier to manage so our customers can focus on what they're experts in."
For more information on Wintac and its functions for field service business, visit http://www.intacinternational.com/
###
About Intac International
Wintac is the flagship product of Intac International. Founded in 1988, Intac has over 25 years of experience developing and supporting the most widely-used all-in-one business management software for small to medium sized field service companies. Over 8,000 companies and more than 60,000 service professionals across the globe have chosen Wintac to run their business. Wintac has the largest customer base due to Intac's proven track record of providing the highest-quality software and support, at an incredibly affordable price. More information about Wintac can be found on their website http://www.intacinternational.com, Facebook, Twitter and LinkedIn.