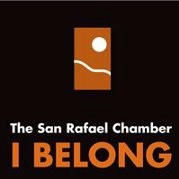 Tiburon, CA (PRWEB) October 01, 2014
After undergoing a trial-and-error process in an effort to find the right chamber of commerce to join, Living Well Assisted Living at Home recently joined the San Rafael Chamber of Commerce in Marin County, the home of its headquarters.
Although Living Well's schedule is demanding enough at the moment, and the thought of adding one more activity to their busy calendar is unbearable, they decided to keep looking for the right chamber to join because membership in the local chamber offers numerous benefits and keeps business owners on top of important, ever-changing issues and trends within their community and local marketplace.
In addition, research shows that consumers are more likely to do business with a company if it's a member of their local chamber of commerce. According a research study by The Shapiro Group, Inc. and Market Street Services, when consumers know that a small business is a member of their local chamber of commerce, they are 44 percent more likely to think favorably of it and 63 percent more likely to purchase goods or services from the company in the future.
Other reasons to join a chamber of commerce are to increase visibility in the community, numerous networking opportunities, as well as professional leadership development, and to gain a voice in government. The local chamber takes on the tough issues and opposes new regulations, taxes, fees, assessments and costs directed at small businesses. It also helps protect the principles of free enterprise and aids businesses in being treated fairly.
For all those reasons, Living Well finally selected the San Rafael Chamber of Commerce. The San Rafael Chamber of Commerce was founded in 1920, and with close to 600 members, it is the largest in the area. The San Rafael Chamber has provided a legacy of leadership in San Rafael and Marin County for more than 90 years. Throughout its rich history, the San Rafael Chamber has served as a key organization in the foundation and sustainability of a strong local economy. The Chamber serves its members and the community with a volunteer Board of Directors and professional staff of five. Learn more about the SR Chamber of Commerce at: http://www.srchamber.com
The San Rafael Chamber of Commerce is a member-based business advocacy organization providing a strong voice in support of the economic vitality of the community. Throughout the year, the San Rafael Chamber of Commerce has worked with determination to provide the best possible benefits and representation for their members. In doing so, they had a direct impact and positive influence on the entire San Marin County community. It is their belief that local businesses must thrive for the community as a whole to do the same. So, Living Well can now proudly say, "I belong."
About the company:
Living Well offers specialized care for adults with chronic and debilitating conditions — like Alzheimer's, Parkinson's, ALS, and mental illness — that compromise their ability to live safely in their homes. At Living Well Assisted Living at Home, they combine a team of experts and the use of smart technology with exceptional customer service to deliver personalized, comprehensive care to seniors and adults with cognitive, behavioral and movement disorders. Their approach to care at home enables those seniors and adults affected by Alzheimer's disease and other forms of dementia, Parkinson's, ALS, other neurological disorders and mental illnesses to live independent and meaningful lives. At Living Well, they aspire to create a safe and nurturing environment while allowing for independence and dignity for seniors and adults and offering peace of mind to the children and family members. Visit their website for more information, http://www.livingwellah-sf.com.