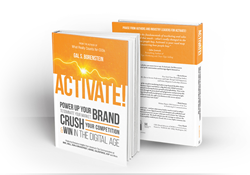 "We live in a new digital age, where brands live and die by the optics of their reputation. Leaders that fail to listen, be responsive and authentic: will lose. To Win, you must embrace digital engagement.", stated Gal Borenstein, Author of ACTIVATE!.
Washington, DC (PRWEB) September 29, 2014
Newly published book, ACTIVATE!, is a call to digital arms - and just what many business leaders need to win in today's evolving, competitive landscape in the Age of Digital. A true digital warrior and champion of established and emerging leaders, Gal Borenstein presents not just "what executives need to know" but "why executives need to do it now," in one quick read. ACTIVATE! will give executives the courage to embrace the digital groundswell and successfully establish your brand.
ACTIVATE! is written in plain English to help executives on Main Street gain a firm grasp on critical issues that impact their bottom line and growth, such as: Customer Service in the Digital Age, Social media and Personal & Corporate Brand Reputation, Digital Communication in today's Corporate Culture, Online Reputation Management, Social Media for Business, Employer Branding, Marketing Intelligence & Automation, and Gamification.
It features exclusive interviews and insights gathered from top communications executives at BMC SOFTWARE, DELL, DUN & BRADSTREET, ADOBE, SALESFORCE, KIIP & CA TECHNOLOGIES.
Ten Topics Covered by ACTIVATE!
1. Why digital engagement is a MUST for customer service success
2. How to build digital professional brand with social media
3. How to build digital corporate brand with social media
4. How to build a culture of digital engagement in your company
5. How to handle social media in corporate settings
6. How to create and sustain online reputation management in the Age of Google
7. How to leverage digital engagement to optimize recruitment & retention
8. How to activate marketing automation for growth & more sales leads
9. How to gain competitive advantage with digital marketing intelligence
10. How to use Gamification to engage employees and clients
Editorial Reviews By Best Selling Authors & Industry Pro for ACTIVATE!
"Believe it or not the fundamentals of marketing and sales have not changed that much - what's really changed in the digital age is how people buy. ACTIVATE! is your road map for mastering how people buy." --John Jantsch, Best Selling Author of Duct Tape Marketing and Duct Tape Selling
"Brands of all shapes and sizes must quickly adapt to the digital & social age in order to survive. Read this book to find out how. Now." --Dave Kerpen, NY Times Bestselling Author of Likeable Social Media, Likeable Business & The Art of People
"Anybody who wants to win the future must learn to build their personal and company brand with digital media. With compelling stories and expert guidance, Activate provides a blueprint for online success." --Kevin Kruse, New York Times Bestselling Author, "We: How to Increase Performance and Profits Through Full Engagement," and Forbes Magazine Leadership columnist.
ACTIVATE! is a call to action to transform your business culture to address digital age challenges, offering an array of information from digital readiness, authentic communication, and generational wars to marketing automation, employer branding, and gamification power. Borenstein aptly notes, "The biggest challenges with leveraging technology have more to do with the people than the technology itself." Fortunately, ACTIVATE! helps with both"-- Nan S. Russell, author of Trust, Inc.: How to Create a Business Culture That Will Ignite Passion, Engagement, and Innovation.
About the Author: Mr. Gal Borenstein:
Mr. Gal Borenstein, Author of the business leadership books "ACTIVATE!" and "What Really Counts for CEOs", is a recognized expert and strategist in digital branding, marketing, social media, advertising, online reputation management and public relations matters.
He is the founder and CEO of the Borenstein Group, a top digital marketing communications firm in the Washington, DC metropolitan area that serves clients locally and globally. Since its founding in 1994, the Borenstein Group has helped hundreds of startups, early-stage, growing, and mature companies optimize their brand promise and maximize their brand equity.
Gal Borenstein is a vocal advocate for digital engagement across the corporate brand, from the C-Suite to Corporate Marketing to Customer Satisfaction and Employer Branding. Borenstein Group clients benefit from his strategic ability to quickly convert abstract missions into tangible and visible action plans with coherent digital creative and business objectives that serve the client's bottom line. Gal published his first business leadership book What Really Counts for CEOs in 2009. Since then, Mr. Borenstein has been featured as a guest commentator on CNN, Fox Business News, NewsMax and other media on strategic marketing and branding issues facing today's business.
In addition, he has been one of the top digital content contributors to influential business leadership social media networks such as LinkedIn, PR Week's The Hub, Advertising Age's BtoB magazine, HR.com, DuctTapeMarketing.com and others.
Publisher: Protocol House Publishers, September 2014.
Book is available in bookstores nationwide and:
AMAZON: http://www.amazon.com/Activate-Power-Brand-Dominate-Marketing/dp/0692257896
BARNES & NOBLES: http://www.barnesandnoble.com/w/activate-gal-s-borenstein/1120250782?ean=9780692257890
APPLE ITUNES STORE: https://itunes.apple.com/us/book/activate!-power-up-your-brand/id913733652?mt=11