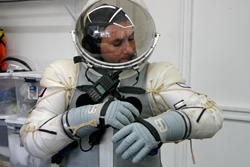 "Waypoint to Space embodies a forward-looking, ambitious, 21st century space training doctrine..."
Houston, Texas (PRWEB) September 30, 2014
Today, Waypoint 2 Space (Waypoint) announced a partnership with Final Frontier Design (FFD) that will integrate FFD space suit designs with Waypoint's innovative EVA training systems in support of Waypoint's FAA safety approved commercial space training programs.
Waypoint recently began a Kickstarter campaign entitled, "Spacewalking on Earth," to crowdfund one of the company's training systems. "We are engaging the public in support of commercial space by providing an opportunity to invest in the Modular EVA Training System (METS) they will train on." Soich said. "Having FFD provide a key component of METS is very exciting."
Waypoint is the only domestic company developing fully comprehensive and immersive space training programs for Pre-Sub-Orbital, Sub-Orbital and Orbital training. The team assembled by Waypoint consists of the same individuals who developed training programs for NASA astronauts and Air Force pilots.
"Our experts looked at several excellent space suit designs along with ways to incorporate these life support systems into our core Pre-Sub-Orbital program," said Dr. Kelly Soich, director of programs and chief payload specialist for Waypoint. "In the end, FFD presented an innovative solution, embodying the core efforts of commercial space and providing us the capability to maximize spaceflight training for a large segment of the population."
Since its founding, FFD has worked with NASA to develop space suit technology for both IVA and EVA capabilities. Established from a prize-winning entry in NASA's 2009 Astronaut Glove Challenge, FFD draws on significant EVA experience from their lead designer Nikolay Moiseev, who worked as the lead space suit designer at Zvezda for more than 20 years.
"A core effort at Waypoint 2 Space is innovation and how to bring spaceflight training to the public," said Kevin Heath, president and CEO of Waypoint. "After discussions with FFD, it was clear Ted and Nikolay had a comprehensive spacesuit design and life support system which meets the needs of our trainees. We are excited to be working with them."
"Waypoint to Space embodies a forward-looking, ambitious, 21st century space training doctrine, one which embraces high technology solutions and maintains cost effective infrastructure, while most importantly, opening outer space to the public," said Ted Southern, president of FFD. "We are excited to participate in the future with them."
For more information on "Spacewalking on Earth" or METS go to:
https://www.kickstarter.com/projects/waypoint2space/spacewalking-on-earth
For more information on Waypoint 2 Space and Final Frontier Design, please check their websites:
About Waypoint 2 Space: Waypoint 2 Space is a Nevada Corporation headquartered in Houston that provides space flight training programs for the commercial space flight industry. For more information, visit http://www.waypoint2space.com.
http://www.finalfrontierdesign.com
Follow us on Twitter, LinkedIn, Facebook and YouTube.