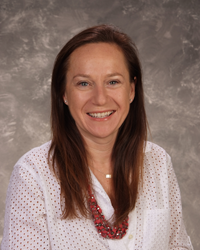 University School is one of Northeast Ohio's top schools because of the pure excellence of the faculty.
Hunting Valley, Ohio (PRWEB) September 30, 2014
Long before she joined University School, Sara Stephenson, the newly-appointed Director of Enrollment Management, was passionate about the school.
"University School's presence and reputation for excellence have been a part of my life for many years," she noted. "When I first moved to Cleveland in 2008 to serve as Hathaway Brown's Middle School Director, I spent a lot of time looking at the US website; my oldest son was only 18 months old but I was already looking for a school of unequivocal character for him!"
In her new position, Ms. Stephenson, 43, is charged with building a robust and sustainable applicant pool of the best and brightest boys in Northeast Ohio.
Toward that end, she encourages families to attend US's upcoming Fall Open House on Sunday, October 5, from 1:30 to 4:00 p.m., at the Shaker and Hunting Valley Campuses. For more information, visit http://www.us.edu/Page/Admission
"It will be a terrific afternoon," she enthused, "with student-led tours of our outstanding classrooms and facilities, and the opportunity to meet our dynamic teachers and school leaders."
Ms. Stephenson said she is proud to be working within a community that is deeply committed to providing boys with an immersive, inter-disciplinary program to help them excel and reach their goals.
"I feel humbled to have a chance to work alongside peerless educators: those with visionary thoughts, generous hearts and energetic minds," she said. "I knew that not only would I thrive and grow professionally at US, but that I would form lifelong friendships. This has proved to be the case from the very first time I stepped on campus."
Ms. Stephenson said it is exciting to be living in a city where a school's 124-year history and reputation are so prevalent.
"University School is one of Northeast Ohio's top schools because of the pure excellence of the faculty," she remarked. "Their great love of their craft combined with a deep and abiding empathy for the boys in their care are unlike any other I've ever seen. It is because of our teachers that US produces the highest possible caliber of thinkers, fathers, partners, colleagues, and leaders. That is something you don't see everywhere."
Prior to joining University School, Ms. Stephenson was Head of the New School in Fayetteville, Arkansas. She was Director of Middle School at Hathaway Brown from 2008 to 2010, and served as Assistant Director of Middle School at Blake School in Hopkins, Minneapolis from 2005 to 2007.
Ms. Stephenson comes to University School with an extensive educational background. She served as an educational consultant for the Hale School in Perth, Australia, where she developed an online interdisciplinary classroom with students from five different states. She has facilitated faculty workshops on conflict resolution and educated board members about curriculum and 21st century skills. She is also the founder of the "London Trip", a non-profit organization that takes middle school students on summer trips to London to study British culture.
Ms. Stephenson graduated from the University of Bristol, UK, where she earned her Bachelor of Science in Earth Science and graduated as valedictorian. She then went on to obtain her Master's of Education from the University of Cambridge, UK.
Sara Stephenson lives with her husband, Paul, and two sons in Hunting Valley, Ohio.