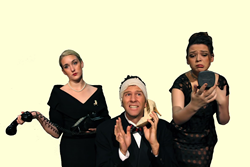 Neil Simon's Rumors will make you laugh out loud...a lot!
(PRWEB) September 30, 2014
Sierra College Theatre Arts Department announces its fall production of Rumors, by Neil Simon. The show runs October 24, through November 2, 2014 and is directed by Scott Adams.
Rumors takes place in a large, tastefully renovated, Victorian house in Sneden's Landing, New York where the Deputy Mayor has just shot himself. Though only a flesh wound, four couples experience a severe attack of Farce! Gathering for their tenth wedding anniversary, the host, Charley Brock lies bleeding in the other room and his wife, Myra is nowhere in sight. His lawyer, Ken and wife Chris must get "the story" straight before the other guests arrive. As the confusions and mis-communications mount, the evening spins off into classic farcical hilarity.
Performance dates and times are as follows:

Friday, October 24, at 8:00 pm
Saturday, October 25 at 8:00 pm
Sunday, October 26 at 2:00 pm
Thursday, October 30, at 7:00 pm, with the Director's Discussion at 5:30 pm
Friday, October 31, at 8:00 pm
Saturday, November 1, at 8:00 pm
Sunday, November 2, at 2:00 pm
*Age Recommendations: Please note that Rumors contains strong language and adult situations. Subject matter might not be appropriate for children 13 and under.
Rumors QUICK FACTS:
Producer: Sierra College Theatre Arts Department
Director: Scott Adams
Set Designer: Debra Hammond
Set Construction: Andrew Fiffick
Costume Designer: Debra Hammond
Light Designer: Patrick Thrasher
Sound Designer: Thor Tivol
Ticket prices are $12 general, $10 students and seniors, $6 with current ASSC sticker. Tickets may be purchased one hour before curtain at the venue or online from Brown Paper Tickets or call the box office at: (916) 660-8154
For more information about this performance, contact Scott Adams at (916) 660-8036 or email: sadams14(at)sierracollege(dot)edu.
The Rocklin Campus is located at 5000 Rocklin Road, Rocklin CA. Parking on campus is free on the weekends, beginning at 4pm on Fridays. Parking for the Thursday performance will require a $3 permit which can be purchased at dispensers located throughout the parking lot.
About Sierra College:
Sierra College serves 3200 square miles of Northern CA with campuses in Roseville, Rocklin, Grass Valley, and Truckee. With approximately 125 degree and certificate programs, Sierra College is ranked first in Northern California (Sacramento north) for transfers to four year Universities, offers career/technical training, and classes for upgrading job skills. Sierra graduates can be found in businesses and industries throughout the region. More information at http://www.sierracollege.edu
Follow us on Twitter! https://twitter.com/SierraCollege
'Like' our Facebook Page! http://www.facebook.com/sierracollege
Sign up for Sierra Alert! emergency text messages! https://www.getrave.com/login/sierracollege