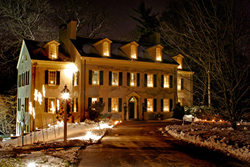 Wilmington, Delaware (PRWEB) October 01, 2014
Hagley Museum and Library's Christmas exhibition, "Holidays at Hagley," will be on display from Friday, November 28, 2014, through Tuesday, January 6, 2015. "Holidays at Hagley" features Eleutherian Mills, the first du Pont family built in America, festively decorated with dried flowers, greenery, fruit, and other natural materials. This year's "Holidays at Hagley" exhibit is inspired by the winter pastimes of the property's former residents. The museum is open 9:30 a.m. to 4:30 p.m. with the first bus leaving for the exhibit at 10 a.m. and the last bus at 3:30 p.m. The holiday display is included in the cost of admission and is free for members.
Picture the du Pont family in the winter sitting together to play backgammon, reading, listening to music or drawing. Girls could practice sewing techniques. Children could entertain themselves by layering different colored sands in a glass bottle. In the Terrace Room, notice the ice skates and sled waiting to be used on a snowy slope. Visiting Eleutherian Mills for the "Holidays at Hagley" exhibit provides an intimate look into the common winter activities of the nineteenth- and early twentieth-centuries.
"During the winter, adults and children spent a lot of time on indoor pursuits. Children engaged in activities that would prepare themselves for their adult lives but they also had time for playing. These activities are represented in this year's holiday display" said Debra Hughes, Curator of Collections and Exhibits.
The Belin House Organic Café will serve an à la carte brunch menu Saturdays and Sundays, November 29, 2014, through January 4, 2015. Menu items are prepared using farm-fresh, locally grown, sustainable and organic products. The Café is open daily, 11 a.m. to 3 p.m. No reservations are necessary.
The Hagley Store will be festively decorated and filled with a unique selection of books, gifts, hand-crafted pieces, and children's items for the season. The Hagley store is open seven days a week, 9:30 a.m. to 5:00 p.m.
About Hagley Museum and Library
The museum is located on Route 141 in Wilmington, Delaware. GPS Address is 201 Hagley Creek Road, Wilmington, Delaware, 19807.
Hours are 9:30 a.m. to 4:30 p.m. The first bus leaves for the exhibit at 10 a.m. and the last bus at 3:30 p.m.
At Hagley, we invite people of all ages to investigate and experience the unfolding history of American business, technology, and innovation, and its impact on the world, from our home at the historic DuPont powder yards on the banks of the Brandywine.
For more information, call (302) 658-2400 weekdays or visit http://www.hagley.org.
###