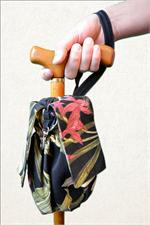 Walking Cane Travel Bags offered in a variety of styles and colors.
Lady Lake, Florida (PRWEB) September 29, 2014
Walking-Canes.Net has just received a new line of walking cane accessories for both men and women. The cane bags are a useful item for carrying any personal belongings while at the store or just out with friends. These cane bags slide on to any cane and fit snug to the shaft so it will not fall down. The bags have compartments made for any type of item one may need to carry. Walking-Canes.Net offers these in many styles and colors.
The Tripod Flex Tip is now available. One of the most popular items on the website this tip is designed to enhance mobility of walking cane users by providing durability, flexibility and security. Take a look at the tip. The new replacement grip for offset handle canes makes replacing the old worn out grip a breeze on replacement.
New this past month is the all new improved line of Danish Walking Canes from SABI. These walking canes are unique and stylish and come in several heights. The Sport Cane has moved to becoming a stylish cane that can be used by the most discreet cane users. The SABI Classic Cane has been redesigned and is offering a new selection of colors that will surely make the cane collector want to add one to the collection.
Winter is coming soon and make sure the cane user has the new Ice Grip Tip for added security on the slippery winter surfaces. These tips slide on and tighten down with a small screwdriver and are not hard to remove if needed.
As always, the customer service team is available to answer any questions during normal business hours. Call the toll free number if questions need to be answered on any of the items ordered. Toll free is 1-888-928-1774. Normal turn-a-round time is one day for shipping on most of the items offered on the website.