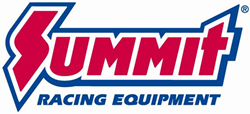 Tallmadge, OH (PRWEB) September 30, 2014
When it's time to rebuild a high performance or racing automatic transmission Summit Racing has upgrade parts from Sonnax Industries. Sonnax has been making transmission components for rebuilders since 1978, and uses that expertise to make parts to help improve transmission performance and durability. Here are some of the Sonnax Industries components available at Summit Racing:
Super Hold Servo Kits
These kits are ideal when more holding power is desired without causing excessively harsh upshifts and downshifts. The servos offer more friction apply area than OEM servos. That means greater holding power and improved shifting.
Applications

GM 700-R4, 4L60/4L60E/4L65E/4L70E, second and fourth gear
GM Powerglide, second gear
GM TH200/TH200-4R, second gear
Ford C-6, third gear
Chrysler Torqueflite 46RE/47RE/48RE, 46RH/47RH, second gear
Line Pressure Booster Kits
Line Pressure Boost Kits contain stronger pressure regulator springs and large ratio boost valves designed to work together to provide progressive pressure increases as driving conditions become more demanding. You get shorter shifts and increased torque capacity without creating low-speed harshness, plus improved band and clutch holding capacity for increased durability. The kits are a simple bolt-in with no special tools or reaming required.
Applications

GM TH-350/350C, 200-4R, and late model four- and six-speed overdrive automatics
• Ford E40D, 4R70W, 4R75W, 4R100
TV Cable Corrector Kits
A properly functioning transmission throttle valve cable system is critical for a properly shifting GM TH-200-4R, TH-700R-4, or Ford AOD automatic transmission. Incorrect TV cable travel can lead to improper transmission line pressures and shift timing. Sonnax TV Cable Corrector Kits correct the pivot location when installing a TV cable on Edelbrock/Carter and Holley carburetors, eliminating the need for expensive adapter systems.
Summit Racing also carries many other Sonnax parts including clutch packs, frictions, and steels, gear sets, input and output shafts, pumps, and shift kits.
SEE ALL SONNAX INDUSTRIES TRANSMISSION UPGRADE COMPONENTS AT SUMMIT RACING
Summit Racing Equipment
http://www.SummitRacing.com
1-800-230-3030