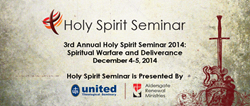 Dayton, OH (PRWEB) September 30, 2014
United Theological Seminary, Dayton, OH, and Aldersgate Renewal Ministries present the 3rd annual Holy Spirit Seminar on Dec. 4-5, 2014, at Ginghamsburg Church, 6759 S. County Road 25A, Tipp City, OH.
United's Holy Spirit Seminar: Spiritual Warfare and Deliverance features a dynamic group of speakers including Neil T. Anderson, William J. Abraham, Esther E. Acolatse, and Peter J. Bellini. Come join us for a time of teaching, conversation, prayer and ministering around the topic of spiritual warfare and deliverance with some of the leading experts in these areas.
Part of United's vision is "Spirit Led, Renewing the Church," and the Holy Spirit Seminar helps to fulfill that vision by offering a full Spirit-filled experience of anointed worship, practical teaching on the Spirit, prayer and a time for ministry and impartation.
The Holy Spirit Seminar will be live-streamed. Registrants will be contacted before the event with an address and password to view. For more information, including the complete schedule and cost, or to register, visit Holy Spirit Seminar. The early registration deadline is Nov. 4.
United Theological Seminary, now in its 144th year, is one of the fastest growing theological schools in the United States. It was founded in 1871 by Milton Wright, a Bishop in The United Brethren Church and father of Wilbur, Orville and Katharine Wright. United offers accredited, innovative graduate and non-degree education programs for both clergy and laity.