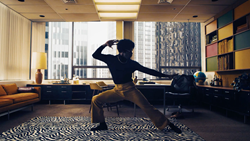 Even Jon Hamm called it "outstanding".
New York, NY (PRWEB) September 30, 2014
Having just completed a summer's worth of challenges and triumphs, NYC creative agency Leroy + Clarkson partners with Be Creative Management (BCM) for exclusive representation.
The summer started with a bang, as L+C unleashed a true labor of love with, "Don-O-Mite", their Blaxploitation ode to Mad Men. As fans of the show, they knew the final season storyline would begin in the early 70s, the same era as such films as Shaft, Foxy Brown, Putney Swope and Dolemite. They re-imagined Mad Men through the lens of the blaxploitation genre, and "Don-O-Mite" was born. Leroy +Clarkson was able to do a lot with a limited budget, an amazing cast, and a level of detail for wardrobe and set design worthy of an original AMC show.
In addition to the 5-minute "Don-O-Mite" movie trailer, they also rolled out an entire campaign including deleted scenes and tons of other digital content across Instagram (http://instagram.com/leroyandclarkson) , Tumblr (http://don-o-mite.tumblr.com/) and Vine (https://vine.co/u/1064993694043820032) .
Mad Men fans around the world spoke loud and clear, with fast and furious internet buzz from the likes of Gothamist, FastCo, Creativity, and Buzzfeed. Even Jon Hamm called it "outstanding". (http://www.buzzsugar.com/Don-O-Mite-Mad-Men-Spoof-34579949). A solid reminder that quality entertainment is more than enough to get the internet talking.
Leroy + Clarkson's finished the summer rebranding TLC with a simple goal: make the viewer's emotional connection the cornerstone of the brand. After a lot of strategy and deep diving, the team realized the answer had been in front of them the whole time, "Everyone needs a little TLC."
To bring that brand promise to life, L+C Executive Creative Director Daniel Fries spent ten days out in the heartland, shooting TLC talent in their natural habitats: weddings, picnics and barbecues. The stunning outdoor footage captured the beauty and humanity behind the characters, and evoked the human connection between us all.
Also in 2014, the world was finally ready for 120 SPORTS, the first-of-its-kind, 24-hour, live digital network driven by a video-centric, 360-degree look across all sports. Debuting as a free, native application for mobile and tablet devices as well as a web experience, the app is a one-stop-shop, fan-focused, real-time, interactive sports community - designed to keep pace with whatever is trending at that very second.
Creative Director Julian Bevan and the team at L+C first developed the brand basics: the "Keep Up" tag line and their bold, graphic look and feel. When it came time to launch, they created a 360 campaign to get the word out. The new digital property is now off to an exciting start.
L+C also wrapped up the 2014 upfront season with a bang at NBCUniversal's all-network extravaganza event at the Javits Center in NYC. This consolidated upfront was really more of a red carpet media event, with A-list stars like Joe McHale, Kim Kardashian, and the late great Joan Rivers all taking the stage to talk about NBCU. A 100-foot video wall installation showed the crowd of thousands what each network was bringing to the table this Fall season.
L+C built the entire campaign around their "ALL TOGETHER. DIFFERENT." headline, with a new brand story about the paradigm shift in the way NBCU is selling media. A massive live action shoot of over 120 talent from NBCU's major networks was orchestrated in LA and NY. This stunning imagery became the foundation of a 2-month long campaign in print, digital, and out of home billboards. 6-story billboards paired with full page ads in every major newspaper coupled with weeks and weeks of digital takeovers on sites like Variety and Ad Age helped build momentum towards the gala event.
ABOUT BE CREATIVE MANAGEMENT
BCM is dedicated to brilliant communications for entertainment, media, advertising, and consumer brands worldwide. Based in New York, Los Angeles, and Atlanta, BCM represents top creative agencies that transform strategy into engagement.
http://www.becreativemgt.com