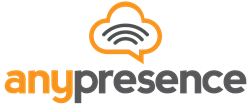 We believe AnyPresence has delivered a leading MBaaS platform that helps companies channel this innovation to rapidly mobilize their business, and are investing to support their continued growth. - Brian Dye, GVP and GM Mobile Platform Group, Citrix
RESTON, VA (PRWEB) September 30, 2014
AnyPresence, a leading cloud-based mobile platform provider, today announced that it has raised $6M in a funding round led by CNF Investments. Existing investors, Kinetic Ventures and Grotech Ventures both participated. This latest round also includes a strategic investment from Citrix, who is also a customer of AnyPresence.
The funding will provide AnyPresence with the resources to further strengthen its leadership position as an enterprise mobile backend service (MBaaS) platform, while expanding organically and via partnerships into adjacent product areas such as API management and user interface (front-end) development. In addition to growing the engineering team, AnyPresence will also be leveraging the investment for sales and marketing expansion to support strategic partners as they offer the solution to enterprises on a global basis.
"Reducing the friction of building and integrating apps is key to unlocking mobile innovation," explained Brian Dye, Group Vice President and GM Mobile Platform Group for Citrix. "We believe AnyPresence has delivered a leading MBaaS platform that helps companies channel this innovation to rapidly mobilize their business, and are investing to support their continued growth."
"We typically seek to invest in growth-stage companies with a strong, proven entrepreneurial team," said Joe Del Guercio, Managing Director at CNF Investments. "We are very impressed with the customer and sales traction that the AnyPresence team has accomplished in a short time, and are excited to see the company move to the next level of growth."
With deep enterprise software experience from vendors such as Siebel Systems, Oracle, and SAP, the AnyPresence team provides a cloud-based platform that helps businesses overcome the hurdles of building, deploying, and maintaining mobile apps that are integrated with enterprise IT systems. The solution is the only platform that offers native source code generation with an OEM-friendly, no lock-in architecture, unlike many traditional MEAP or MADP vendors. As a result, AnyPresence has signed up large enterprise customers like Gannett/USA Today, MasterCard, and Schneider Electric, and received multiple industry awards and accolades, including being selected as a 2014 Gartner Cool Vendor.
"We are excited to have new investors to help accelerate our growth and leadership in the mobile app development platform market," said Anirban Chakrabarti, CEO and co-founder. "This funding round will also be used to expand our capabilities based on requirements from customers and partners, such as API management and support for emerging devices driven by the Internet of Things movement."
About AnyPresence
AnyPresence is a cloud-based app development platform that securely adapts your enterprise systems to support mobile and emerging smart devices. It is the only solution that dramatically reduces the time and cost of mobile-enabling enterprise business processes via backend servers (MBaaS), cross-platform SDKs, and user interface kits, with the freedom of 100% portable source code. The patent-pending AnyPresence platform also includes the ability to generate sample mobile apps from within API management portals, increasing adoption of your APIs throughout your app ecosystem. The platform is easy to use, yet flexible enough to enable source code-level customization or on-premise hosting options, with no platform "lock-in". For more information, please visit http://www.anypresence.com
About CNF Investments
CNF is a Washington DC based private investment firm with a focus on venture capital and private equity opportunities. CNF manages over $300 million in capital with current investments in technology, healthcare, and oil and gas and will consider direct as well as fund investments. CNF is an affiliate of Clark Enterprises, Inc., the parent company of Clark Construction Group. For more information, visit http://www.cnfinvestments.com