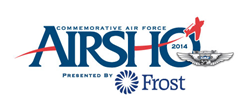 Midland, TX (PRWEB) September 29, 2014
Media day for the CAF AIRSHO will be held tomorrow, September 30, at 10 a.m. in the Main Hangar on the CAF Campus, 9600 Wright Drive, Midland, Texas. Representatives from AIRSHO and the CAF will be available to discuss the highlights of this year's event which will be held at the Midland International Air and Spaceport on October 11-12. CAF AIRSHO 2014 is presented by Frost Bank.
Media information will be available and several airplanes from the local CAF High Sky wing will be available for media rides.
The CAF AIRSHO, known as "The Best Warbird Show in America," will feature many rare and historic aircraft from the CAF flying fleet, including the World's Only Flying B-29 FIFI, two B-17 Flying Fortresses, Texas Raiders and Sentimental Journey, the Red Tail P-51 Mustang Tuskegee Airmen and reenactment performer TORA! TORA! TORA!
Advanced tickets are $20 for adults and $5 for children ages 6-12. Tickets can be ordered online at http://www.airsho.org or by visiting any Frost Bank location, area 7-Eleven stores or Domino's Pizza locations. Tickets purchased at the gate will be $25 for adults and $5 for children. Children age five and under are admitted free. Parking is an additional $5. Gates open each day at 8:30 a.m.
Private chalets, sponsorship opportunities and exhibit space at the event's TradeSho are also available. For more information, visit http://www.airsho.org or call (888) 945-3008.