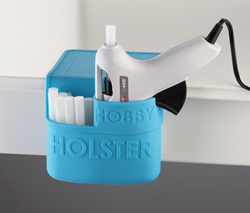 The Hobby Holster is a perfect fit for Jo-Ann Fabric and Craft Stores and we are looking forward to introducing our product to their customers
Los Angeles, CA (PRWEB) September 29, 2014
Holster Brands' crafting product, the Hobby Holster, will be available for retail purchase nationwide at Jo-Ann Fabrics and Crafts stores this month.
Jo-Ann Fabric and Craft Stores will be administering a retail trial of the turquoise Hobby Holster in 260 stores. The national craft store chain and online retailer operates more than 870 stores in 49 states and is the nation's largest specialty retailer of fabrics and craft supplies.
Holster Brands'Hobby Holster was designed to keep crafters organized. The Holster's silicone, dual pocket design safely holds hot crafting tools and is heat resistant, up to 400 degrees Fahrenheit. The Hobby Holster makes safely holding hot glue guns easy while they are in use or in the process of cooling down. The dual pocket design allows crafters to keep their hot glue gun safe and separate from additional glue sticks; glitter pens free from paint brushes; or quilting pens isolated from fabric squares. The silicone used in the Hobby Holster allows the product to cling to any smooth surface without the use of suction cups or damaging adhesive.
"We are very excited to venture into the realm of mass retail," said Erin Balogh, inventor and CEO of Holster Brands, "The Hobby Holster is a perfect fit for Jo-Ann Fabric and Craft Stores and we are looking forward to introducing our product to their customers"
The Hobby Holster will retail for $19.99 at Jo-Ann.
For more information about Holster Brands visit HolsterBrands.com.
About Jo-Ann Fabric and Craft Stores
Jo-Ann Fabric and Craft Stores, the nation's largest fabric and craft retailer with locations in 49 states, was founded in 1943 as a single retail store. Today, more than 870 Jo-Ann stores across the country provide consumers all the fabrics, craft supplies and inspiration they need, conveniently under one roof. For additional information, visit http://www.joann.com
About Holster Brands
Holster Brands is a consumer product innovation company focused on bringing products to market in the United States and internationally. Holster Brands has a product portfolio that includes the Hot Iron Holster, the Hobby Holster and the Lil'Holster. Each of these product lines utilizes silicone as a functional material to help consumers with organization, heat resistance and daily activities. For information about becoming a retailer, visit HolsterBrands.com.